Red Dwarf is back on TV this week for Series XI. How does this relate to Knightmare?
---
I. Eight series...
Let's start with the obvious: Knightmare and Red Dwarf both started in the 1980s, earned a cult following then ended after eight series in the 1990s. Or so we thought.
II. ...Then a comeback
When a cancelled TV show and its fans are of high enough calibre, sometimes the right thing happens. Red Dwarf returned for a special episode in a new home (Back to Earth, Dave, 2009) and so did Knightmare (Geek Week, YouTube, 2013 - more on that later). Unlike Red Dwarf, Knightmare hasn't yet returned as a TV series.
III. Craig Charles, Knightmare fan
In 1992, the Knightmare Adventurers Club gained a new honorary member in the shape of Mister Lister himself. According to official newsletter The Quest, 'Craig has joined the fans of Knightmare after working with the production team in one of our new series - Cyberzone'. A pioneering VR gameshow that never achieved Knightmare's level of success, you can see a short clip on YouTube of Craig hosting Cyberzone.
IV. Kryten talking about Knightmare
We could never have dreamed of this. In two of the promotional videos for YouTube Geek Week in 2013, Kryten himself (Robert Llewellyn) referred to Knightmare and its special episode. You can find these videos, along with the episode itself, on my Knightmare Geek Week playlist.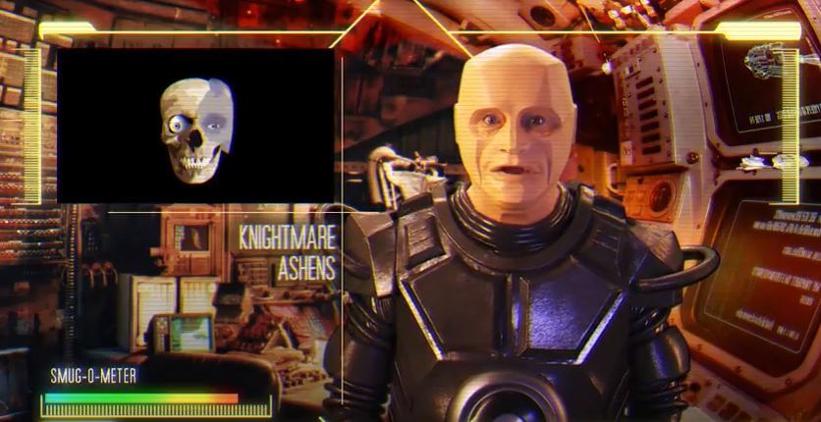 V. Cliff Barry
The first actor to appear in both shows. Cliff played Lissard, Brother Strange and Raptor in Knightmare Series 7 and 8 (1993-94). He then played Lister and Rimmer's guard in Red Dwarf VIII (1999: Krytie TV).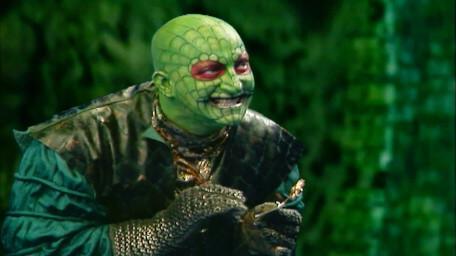 VI. David Verrey
In Knightmare Series 3 (1989), David played the clansman McGrew and the wall monster Golgarach. In Red Dwarf VIII, he played the prisoner Big Meat (Only the Good...).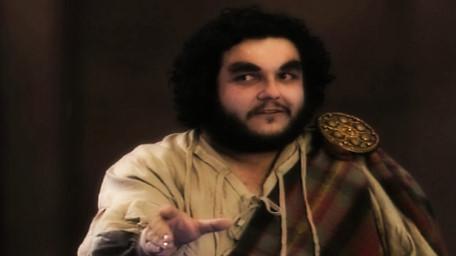 Messrs Barry and Verrey are also the only actors to date who've appeared in both Knightmare and Game of Thrones.
VII. Mel Bibby
The late Mel Bibby is much admired for his work as Red Dwarf's production designer in the '80s and '90s. He also worked on Cyberzone and he designed the Knightmare Castle antechamber in Series 8 (1994).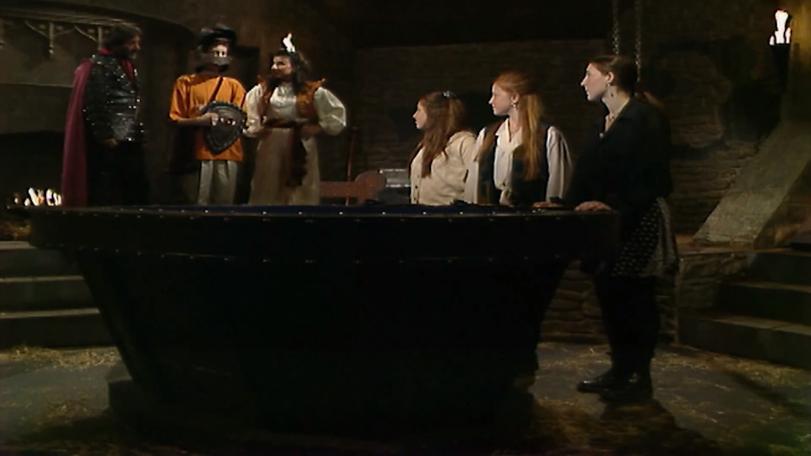 VIII. Jackie Vance
Jackie was post production supervisor on Red Dwarf X (2012). She is also a strong supporter of Knightmare, attending the first ever Knightmare Convention in 2014. There was a nice moment at the convention when Jackie and Cliff Barry chatted about Red Dwarf after being told of the connection by a fan.
IX. Theme tune mix-up
In Episode 6 of BBC game show I Love My Country on 14th September 2013, contestants were asked to guess three British TV theme tunes, the second of which was Knightmare. Frank Skinner's team got it wrong, but they guessed Red Dwarf and we can excuse that.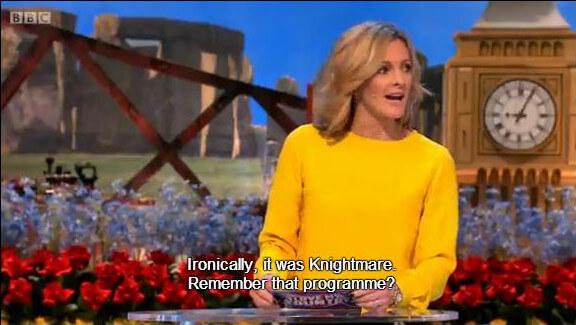 X. Tunnels
This is the part where I scrape the barrel just a little bit to get it up to XI. In Series 3 of Knightmare, currently repeated on Challenge on Sundays from 9AM, dungeon chambers were connected by dwarf tunnels. On Level One they were blue. On Level Three, beige. But Level Two had red dwarf tunnels.
XI. And finally...
Among Knightmare's clue objects, gemstones could often be found. And gems backwards is...