This ramshackle room with slanted wooden beams was usually occupied by Mildread. It sometimes doubled as a wellway to Level 2.
---
The cauldron room was introduced for Mildread the Witch. It was creepy and dark with wooden slats and a steaming cauldron in the foreground.
Tricks and traps
Sometimes, dungeoneers would see a wellway when they enter. They would then be met by one of Mildread's disguises.
She might appear as Treguard or use the voice of the advisors to coax the dungeoneer into the well.
Treguard would order Mildread to return the room to its normal condition. The wellway returned to a cauldron and the lighting created a sinister witches' cave.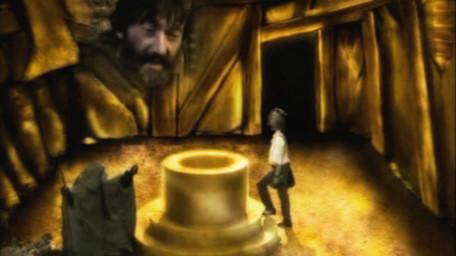 Onwards or downwards?
The room might contain one or two exits in the rear wall.
Mildread might reveal a clue as to which door was the safest option. Behind the wrong door (or if a dungeoneer didn't have the correct clue object) was a bomb room.
Alternatively, Mildread might conjure the cauldron into a wellway or help the team to do so. This provided a way to Level 2.