The Spear Room was a common timing challenge during the early series of Knightmare. Dungeoneers had to avoid spears to reach the exit.
---
Series | 1, 2, 3
Level | 1, 2
This chamber was a test of timing and coordination.
Spears appear through two sets of doors in the side walls and clash in the middle or jut awkwardly into the centre.
In the third series, the room has more collateral damage. Through the damaged walls, mechanical wheels are shown driving the spears.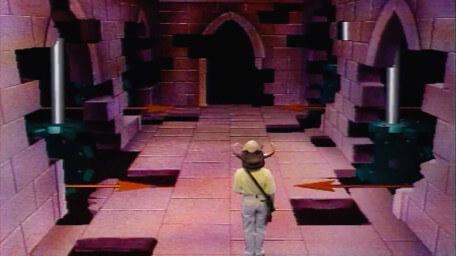 The challenge for teams is to evade both sets of spears and escape through an exit at the end.
There is a safe zone in the middle for teams to time a dash through the second set of spears. Sometimes they are hurried by skulls or other hauntings.
Pendulum
This room is adapted on one occasion to feature a large pendulum.
The dungeoneer appears at the left door and must cross the width of the corridor while avoiding a bob which swings the length of the corridor.