Knightmare has been crowned 'Kids TV Champ' via an online poll run by radiotimes.com.
---
To win the prestigious title, the show had to beat off stiff competition from generation-spanning household names such as Blue Peter, Thunderbirds, Scooby Doo and Postman Pat.
One hundred and twenty eight children's classics took part in the two week long knockout tournament in which entrants were whittled down over seven rounds.
A bit like Wimbledon then, although the Wombles themselves bowed out in the fourth round when they came up against Ant and Dec vehicle SM:TV Live. That Saturday morning juggernaut eventually went all the way to the final where it faced a certain adventure game show...
Yes, after a fortnight of intense competition, including a very close-fought semi-final against Sooty, Knightmare ended up winning the final comfortably with a massive 80% of the vote.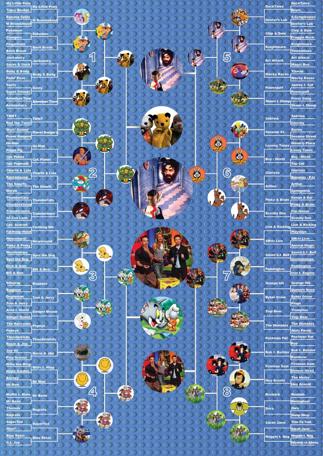 DownloadSee full image (469.1kB)
With victory in such a large online poll, it seems that Knightmare's recent revival - a new episode, a live show, a successful convention - shows absolutely no sign of abating.
Who knows what's next?
Knightmare's path to glory
Round 1: Teletubbies
Round 2: Chip and Dale
Round 3: Duck Tales
Round 4: Shaun the Sheep
Round 5: Loony Tunes
Round 6: Sooty
Final: SM:TV Live