Viewer letters include requests for videos of previous series of Knightmare.
---
Visors and videos
Dear Knightmare,
I have now watched all seven of your series with the six successful teams and I am writing to you about how much I like your programme, in fact, it's my favourite ever!
I was glad to see the seventh series in September of this year. I was sad to see Pickle go, hut Majida plays her part well. I was also glad to see Lord Fear again making me believe as if he really was nasty. The spells also were very good including "Visor" which allowed the dungeoneer to actually see for a limited time in his helmet. They are as good as the first ever spell in series 1, which was "Freezer" (used when that funny skeleton was edging closer towards the team).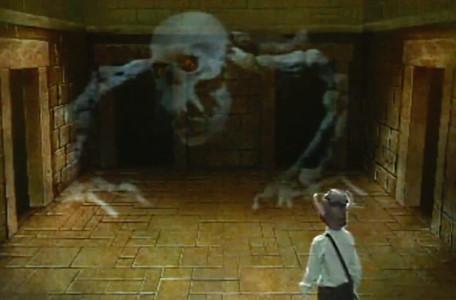 My favourite character has to be the Brollachan, with that funny mouth and favourite expression, "Why don't you feed me?" I thought that getting rid of the brick walls who said "Password" in Series 6 was a good idea. I also like Smirkenorff, that green dragon who flies from level one to level two. The only thing I didn't like about series seven was I thought that level three was too hard. Also when that last team won the shield I thought they had a really tough quest, especially level one! Nevertheless, they still became the sixth team to win (five boys, one girls team).
I would be specially interested if there was a video available?
Alex Seymour, Surrey
Knightmare on video?
Dear Knightmare,
Why not put previous series of Knightmare on video?
Also I have some ideas for series 8 - why can't you have dark moody rooms again and rooms you would have been in series 1, 2, 3 & 4 - they looked really good!
Also can you keep the Brollachan as he was very funny, and what about more frogs again and what about more of those corridor conveyor belts?
And the spells scrolls. Please put the series on video!! 1, 2, 3, 4, 5, 6 & 7.
James Nankoo, Surrey
We get many letters requesting videos of previous series of Knightmare - why not write and let us know if you agree and we'll pass your letters on to The Powers That Be! - Ed.
DownloadFull issue 2 (2.9MB)