It wasn't quite escaping the dungeon, but the Knightmare.com team took on the exciting new escape adventure at Bewilder Box and emerged victorious.
---
If you're not yet familiar with Bewilder Box, it features our very own Hugo Myatt as Dr Wilder Sr and Paul Flannery (Knightmare Live) as his son, Benjamin Wilder.
Based above the Hobgoblin pub in Brighton, Bewilder Box isn't quite an escape room in the conventional sense - it's more an immersive gaming experience. It describes itself as a cross between the Crystal Maze and Secret Cinema, and on that count it doesn't disappoint.
We're building a team to save all of mankind. No pressure!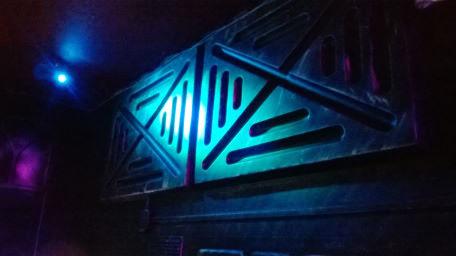 Players have an hour to uncover the mystery behind Dr Wilder Sr's disappearance in the late eighties and uncover the truth behind the enigmatic 'Project Arc'.
It's engaging enough to draw you in immediately. We were tested with a series of puzzles, from cracking codes to finding passwords, and a host of other challenges in between.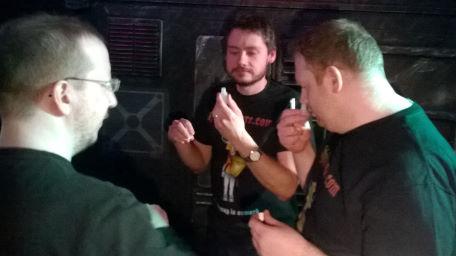 We won't offer too many spoilers, as we hope you'll try it out for yourselves - but Knightmare fans will certainly appreciate a few familiar phrases from Hugo as the story unfolds.
Teams are also assisted by D.A.V.E., a virtual interface affectionately named after the show's two creators, David Staffell and David Middleton. It's a great conduit between the two comperes and the gaming teams.
We all thought D.A.V.E. seemed slightly familiar. Alan Boyd quizzes it on its alter ego.
Victors
So, how did we get on? Very well, as it goes. We completed it with 15 minutes to spare! Quite an effort, we're told!
Suffice to say, we were impressed (and not just with ourselves).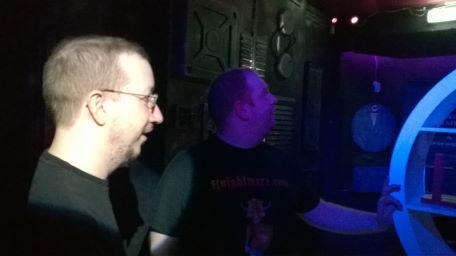 Bewilder Box's two creators captured the imagination with an excellent crowdfunding campaign which raised almost twice the intended goal. They promised that additional funding would go towards improving the game, and it's clearly benefitted from the extra investment.
The retro set captures the nostalgic vibe around which the game is based (and which inspired it in the first place). The game is immersive, splendidly crafted, and still manages to differentiate itself from other escape room adventures.
Bewilder Box deserves to do very well. It's got everything to appeal to Knightmare fans, who won't be disappointed.
Bookings are available via the Bewilder Box website.