From stage mishaps to child prodigies, the comedy adaptation's first outing since Covid served up all of its old habits and a couple of new surprises.
---
The strangest thing about reviewing a nostalgia show that's been going for almost a decade is that it becomes rather nostalgic itself.
Taking my seat at Kings Place in London, the familiar set and adrenalin buzz of nostalgia-craving 30- and 40-somethings transported me back to the show's first outing eight years ago.
The last time I saw Richard Soames among the ensemble, his Lord Fear was gloating over my swift demise as a contestant. This weekend saw Tom Bell return as Lord Fear, the first time I've seen this since the Knightmare Convention in 2014.
How time flies. The world, like the Knightmare dungeon, has changed a lot in a year. And on an autumn Friday evening (prime Knightmare time), a 200-strong audience was ready for a reboot.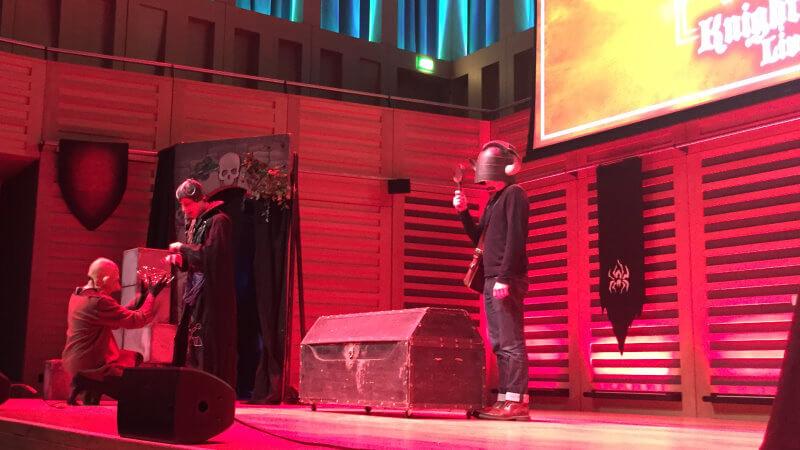 On the face of it, the fabulous Kings Place was a great spot for it. Yet, as a music venue, its high stage and fixed surrounds cause a couple of interesting issues.
It wasn't long before the first dungeoneer nearly tumbled off the stage. One of the night's funniest moments was Lord Fear stretching through the door to save a dungeoneer from a real 'ooh, nasty' accident.
"That's the closest we've come to having someone walk off the stage," host Paul Flannery (Treguard) glibly admits afterwards. It's these unexpected moments that keep the show fresh - and the blood pressure a little higher than it should be.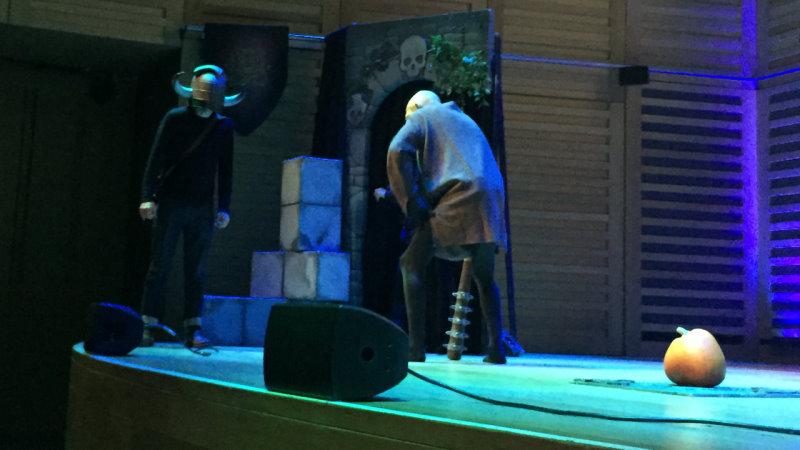 Game of Thrones, anyone?
The show began with all the old tricks that will be familiar to anyone who has seen it before. Lord Fear's introductory showdown with the audience went on for a good while.
The improv between Treguard and Lord Fear continues between scenes. With a cast of just four for this show, Fear does a lot of the on-stage prep for each room.
The two protagonists spend about half the show on stage together.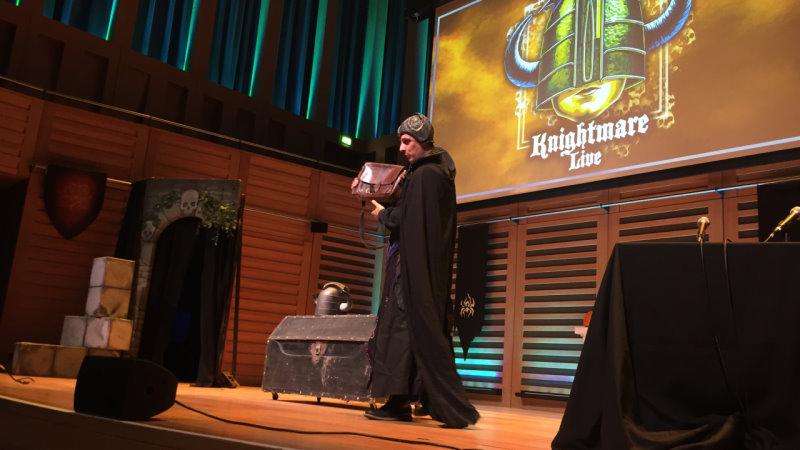 There's a crafty nod to the fact that jokes originally written for March 2020 have since lost their moment. Out goes Game of Thrones, in comes Squid Game. With this audience, there's rewards just from pointing this out. We love a good meta-joke, if not the Zuckerberg kind.
"I actually got that reference," says adviser Melanie Clark at one point. "Really? Good for you," Treguard dryly remarks to much laughter.
Clark and fellow adviser Claire Lim are regular presenters on Twitch, a medium that Flannery has used for Knightmare Live activities during lockdown.
It's been an important community for a lot of people in the last 18 months, and a few audience members tell me that's why they've come to the show.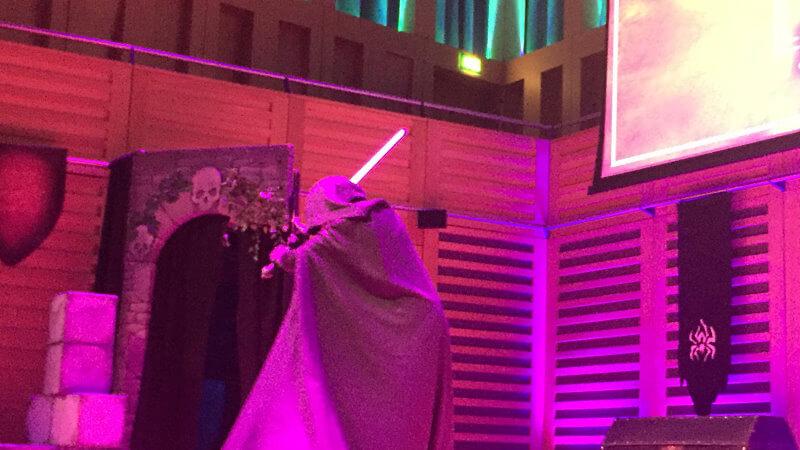 The advisors are great fun and work out the tasks well. Their first dungeoneer, after flirting with an actual fall, is soon put out of his misery. The second, a plucky Glaswegian, completes Level One.
It takes an hour. Has it ever taken an hour? I suspect it wasn't meant to.
Fortunately, no-one is strapped for time, so there's a generous second half as well, with Lilith's cavern (imagined ravine and all), a Block and Tackle, a tavern, and an archery tournament.
Child's play
The major surprise of the night comes after we run out of dungeoneers. I'm almost expecting a call-up from the front row.
Far better - there's an actual child at the back, who is there with her father. Flannery terms the nomination "the ultimate dad joke".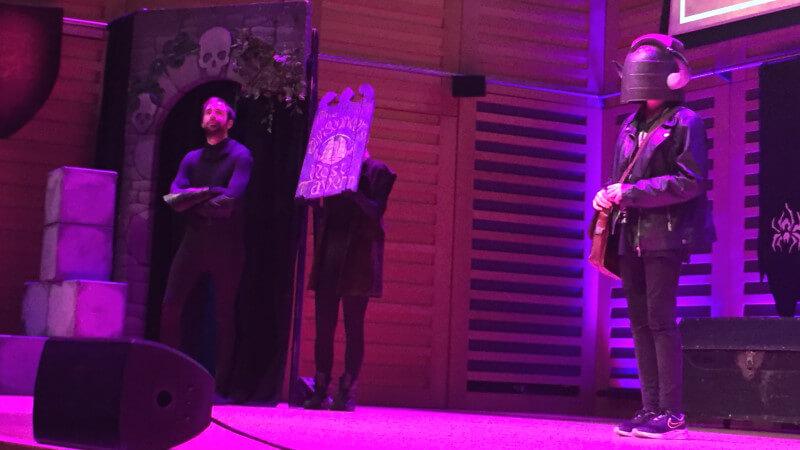 The first task our young challenger must face is to talk her way into a tavern - the least age-appropriate task imaginable.
Like that infamous 'Turkey' moment on Family Fortunes, she keeps the bouncer thinking on his feet by answering 'band' to every question.
From here, there's no way she's NOT winning. She ignores Treguard's fruitless pleas not to tilt her head back to see where she's going.
Laughably, it makes the perilous Corridor of Blades the easiest room of the entire evening. This farcical end makes a long show feel satisfyingly complete.
Special plaudits must go to Richard Soames and fellow support Katy Schutte, whose various turns include goblins, shopkeeper, dragon, Lilith, bouncers, and a variety of moving scenery.
Versatility is the order of the group, but two hours is a long time to keep everything functioning both backstage and front.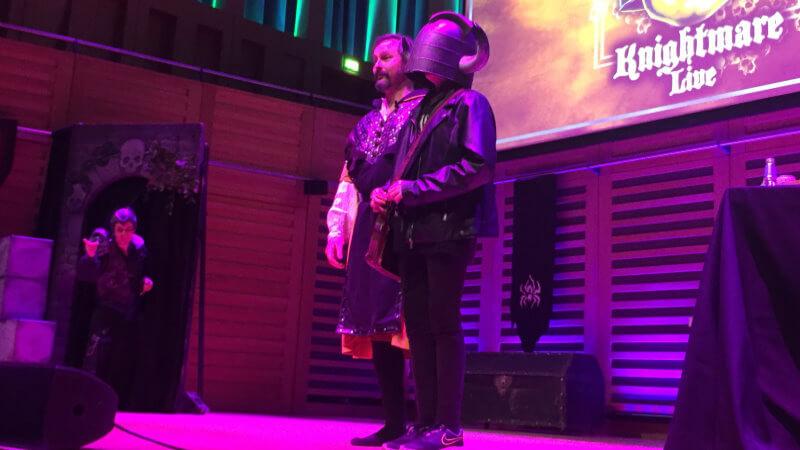 The end is nigh?
It's hard to believe, but when Knightmare Live enters its ninth year in 2022, it will surpass the lifespan of the original show.
A good chunk of that time has been lost to Covid, but it still takes some effort for a show to keep going as long as this has.
Kings Place told us that Knightmare Live is not quite done yet. And if it keeps springing up surprises, there'll be life in it for a while to come.