Team 12: Steven, Mark, Paul and Chris from Weston-Super-Mare.
---
The twelfth quest of Series 2 was for the Shield and lasted 29 minutes.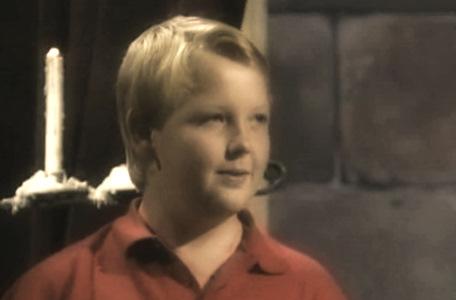 Level 1
From the Wheel of Fortune, Steven appears on a ledge. He must escape from a spider.
Treguard: "Time for you to fly, Steven. Unless, that is, you want to be trapped like one?"
Folly is making a mess in the kitchen! He says he's 'cooking up an adventure'!
Folly: "Shall I desert, or shall I serve?"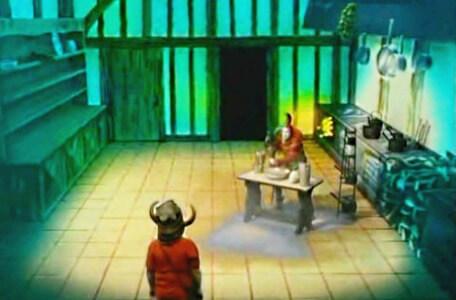 He gives them a rhyme, telling Steven to collect a key and use it in an empty chamber.
The Level 1 clue room is guarded by Igneous (Score: 2).
A talisman of invisibility is on the table. Steven can carry it by wearing a gauntlet.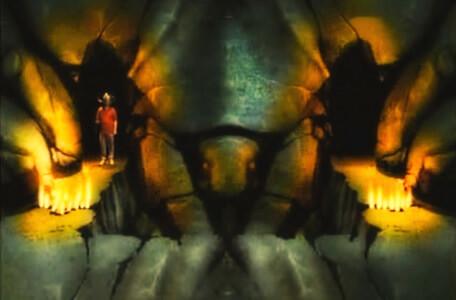 Into the Scarab Room. The team handles this very well, avoiding the flames in both directions.
The troll starts singing as he thinks he has spotted lunch. Steven uses the talisman to disappear.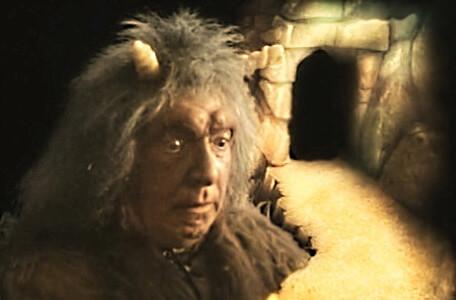 The team guide him along the cliff face. He checks his position by becoming visible for just a few seconds at a time.
Steven enters Mildread's chamber still in his invisible state. She looks around confused. She challenges him to impress her, so he disappears again.
Mildread says they should take the left exit, but they don't trust her.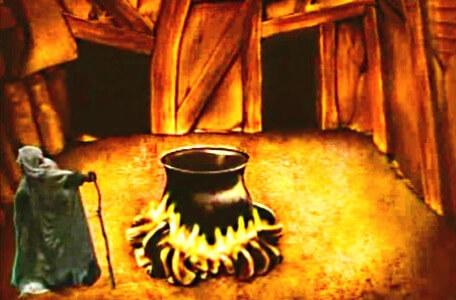 But she was telling the truth! Into a bomb room, which they just escape in time.
Onto the Lion's Head, where they collect a key and escape the disintegrating pathway.
The wellway is locked. Steven unlocks it with the key and descends as the automatum approaches.
---
Level 2
Steven lands on Cedric, which gets him very animated. His irritation amuses the advisors.
Steven answers all three riddles without any help.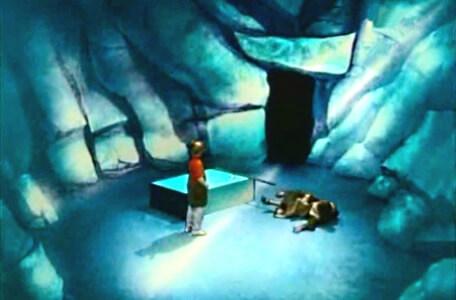 Cedric: "If you want to pass her highness, you'll have to overcome your shyness. Music to her ears is what she needs, so whistle or sing if you wants to proceed."
He offers an AVAUNT spell, and a password, 'Defender'.
Straight into Ariadne's Lair. Steven whistles to uncover the doors from her webs.
The Level 2 clue room is guarded by a cavernwraith. They spell-cast AVAUNT to banish it.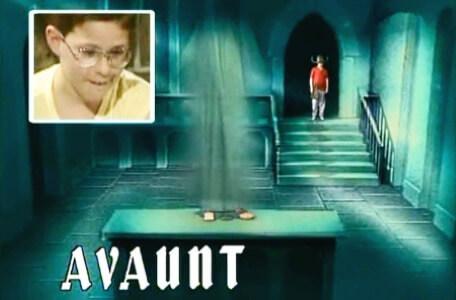 Casper the Key is on the table. Steven takes it and a bar of gold, leaving behind a talisman.
Gumboil is drunk on the bridge over Mogdred's Vale. Steven gives him the password but Casper insults him, so Steven must give up the gold as well.
Gumboil: "Who are you calling incontinent? Gumboil is offensive!"
Into Merlin's chamber, where they summon the wizard following Casper's advice. They fail to earn magic from him. He does offer a warning, though.
Merlin: "Mogdred, he glories in the dark side of magic. He can and may hinder your quest, but he would much rather just scare you into making a mistake."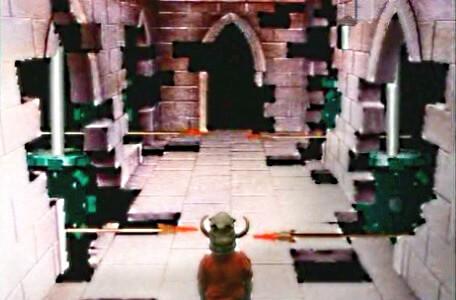 They survive the Corridor of Spears and Combat Chess competently.
A piece of the Shield lies in the wellway room to Level 3.
Death
Before they can collect it, the light fades. It can only be restored by magic.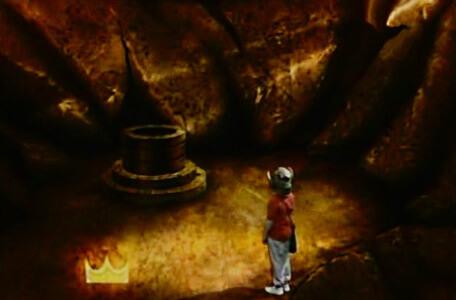 Treguard: As a dungeoneer, you're great at disappearing. This time, it's once too often.
---
Hear from the team
In January 2001, advisor Mark signed the Guestbook:
It's funny to see a picture of myself aged 12. I was on the show in the second series. Great website - good to see some classic kids' TV out there.