An active mine was supervised by a dwarf mineworker in Series 2. In the following year, the remaining mine cart formed the route to Level 3.
---
The mine was a stone cavern with a cart on rails that led into the distance. Dungeoneers often needed help to escape from this chamber.
Series 2
In Series 2, the mine is active. It is supervised by a dwarf called Bumptious.
Bumptious tests the team under the ordinance of his guild. Once this is over, dungeoneers might become temporary apprentices.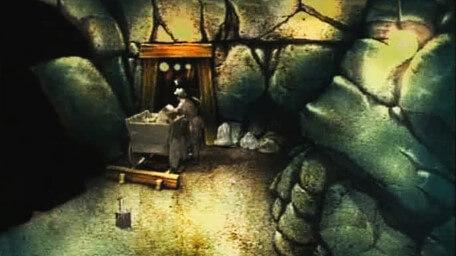 Their task is to help Bumptious detonate explosives, which also blows an exit into the side wall of the chamber.
On one occasion, the dungeoneer falls into the mine from the Level 1 wellway and lands straight on the plunger.
Series 3
In Series 3, the mine is no longer active, but the minecart remains.
A weak forcefield prevents players from entering the tunnel on foot.
But with support from a character such as Motley or McGrew, they can be pushed through it in the mine cart.