An online interview with Mark Knight, who answered questions raised in the Knightmare Forum and presented to him by Kieran O'Brien.
---
Ideas for questions were posted to the Forum. Apologies if your questions weren't answered. Thanks go to Mark Knight for sparing us his time. Enjoy!
---
Steph / Kieran: Hello!
Lord Fear: Hello mortal.
Kieran: Greetings Lordness. Anything to say to the other mortals before we start?
Lord Fear: Just remember, I do like the proper forms of respect.
Kieran: By all means my Fearship.
Lord Fear: Good.
Cancellation
Kieran: Indeed. First of all we would like to ask you - are you aware of why Knightmare was cancelled, when did they tell you it was and what reasons did they give you?
Lord Fear: Tim Child had been trying to get an American pilot made of the series and also a CD game. After series 8 we all went home and our agents were told the next year that there would be no more Knightmare.
Kieran: A CD game! That would have been nice! Why on earth we can't do that today I don't know. So you got no real explanation as to why?
Lord Fear: No. The CITV people decided that the audience wasn't there any more.
Characters
Kieran: Rats to that! It was still the top show on CITV, they must have made a major mistake when they decided that. Who was your favourite character? (Ah Wok, Lord Fear, Rothbery or Sir Hugh)
Lord Fear: I liked Ah Wok but Sir Hugh was fun because he was such an idiot.
Kieran: Yes, well he was right, if it smells bad it must be saved.
Lord Fear: Exactly.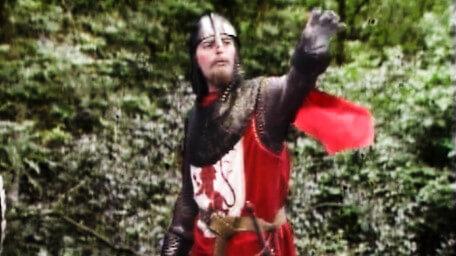 Kieran: Who was the easiest of the characters to get into? Did you ever go into the wrong voice for a character?
Lord Fear: They were all easy. I have no trouble doing accents.
Kieran: okay then. :-) a sign of a confident actor.
Lord Fear: I never did the wrong voice - we had plenty of time to prepare.
Special effects
Kieran: How were the spyglass sequences filmed? e.g.. were they live or pre-recorded?
Lord Fear: They were all pre-recorded.
Kieran: How did they do the "seeking hand" you used in Series 6?
Lord Fear: All pre-recorded and mixed on-screen with live action.
Kieran: Did you use a blue background for the hand? If you want to go into the technical aspects of course...
Lord Fear: Yes we used bluescreen (aka chroma-key) to remove the bits we didn't want seen.
Kieran: Ah right. I wondered about that. You could always tell you were going to do that in the spyglass scenes, as you would have one bare hand. Was that on purpose?
Lord Fear: Yes.
Fellow actors
Kieran: Do you keep in contact with any of your fellow actors on Knightmare?
Lord Fear: Unfortunately no. I used to see Paul Valentine a bit but I live in another country now and have lost touch.
Lord Fear: I used to see Cliff Barry a bit (I was his best man when he got married) but no longer.
Kieran: Lord Fear as a best man?!!!
Lord Fear: Yep. A strange situation.
Kieran: Very strange. Did you watch Knightmare before you joined it?
Lord Fear: No. I knew of it and watched it when I knew I was going to audition for the part, but that was all.
Kieran: I see :-) Do you have a favourite series at all?
Lord Fear : Series 7 was great because I got to work with Cliff Barry who was a friend from another job. We used to work at the Museum of the Moving Image in London.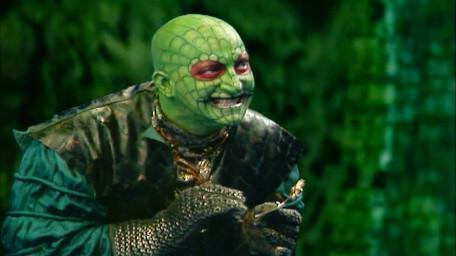 Kieran: I know that place! Were there any particular rooms/challenges you liked? e.g. Corridor of Blades or Black Tower of Goth etc
Lord Fear: The blades were excellent.
Kieran: Yes, a big Dungeoneer killer. :-)
Lord Fear: Very satisfying.
Kieran: Who did you used to hang around with whilst filming?
Lord Fear: Paul, Cliff, Steph and a few others.
Would you return?
Kieran: I see. Do you have any favourite teams? Or worthy victors?
Lord Fear: No. I hated them all equally.
Kieran: Anyone who stood out from the rest?
Lord Fear: None. They were all pathetic losers.
Lord Fear: Except the winners.
Lord Fear: Who I hated.
Kieran: I see, silly me, in thinking Lord Fear would like Dungeoneers ;-)
Kieran: If Knightmare came back, would you like to play Lord Fear again?
Lord Fear: In a heartbeat.
Kieran: I guessed so. :-)
Behind the scenes
Steph: How did they do your make-up for Lord Fear and how long did it take... less than 12 hours I hope ;-)
Lord Fear: Only about 40 minutes.
Kieran: Not too bad then, those finger nails looked like an hour each
Lord Fear: Nope. Just a bit o'glue and off I went.
Steph: Did you have to have fittings for your helmet?
Lord Fear: Yes. It was irksome.
Kieran: oh nasty :-)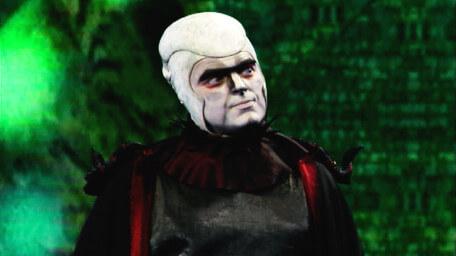 Kieran: Did you always stick to the script for your characters or did you improvise?
Lord Fear: All the smaller characters were impro'd. We just had to get certain bits of info across and maybe bargain for an item. Lord Fear was always scripted.
Kieran: Yes, as it was pre-recorded, makes sense. Who wrote the Lord Fear scripts? Did you have any say in them?
Lord Fear: Tim wrote them but I would make suggestions and tweaks sometimes.
Kieran: I see :-) Never let the director/script writer have too much power aye?
Lord Fear: Yes.
Kieran: Did you find the spy glass sequences difficult? e.g.. talking to another character through the pool with them not really being in the pool etc.
Lord Fear: Not really. It was acting which is strange enough as it is.
Kieran: Yes, I KNOW what you mean
Steph: How heavy was the suit of armour for Sir Hugh? Did YOU ride the horse?
Lord Fear: I didn't ride Neddy. In fact I never met Neddy. He was filmed on Bluescreen before we started shooting that series and they mixed him in when we needed him.
Lord Fear: The armour was all fibreglass and quite easy to wear.
Other projects
Kieran: Other than Knightmare, what else have you been involved in, in an acting role?
Lord Fear : I was a playwright and performer on the London Fringe for years. I toured in Shakespeare shows, I worked with the Medieval Players, I toured Germany twice with Educating Rita (I played Frank). I was also involved at the Shakespeare's Globe in Southwark (London) for over a decade. I gave thousands of lectures and workshops there and set up a team of actor-teachers.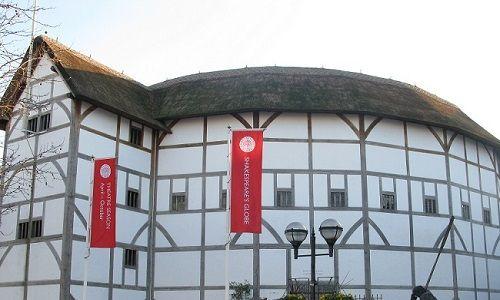 Steph: I loved Educating Rita! What kind of publicity stunts did you do for Knightmare? Did you enjoy them? Were you involved in the Knightmare fanzine/news letter, as Lord Fear had a regular column in it?
Lord Fear: Very few stunts. Someone else wrote the Lord fear column - Sue Child, I think.
Kieran: Ah no! Oh well, she did a good enough job, not quite the Fearship good though.
Kieran: Did you ever see the finished product of Knightmare? Do you have copies on video today?
Lord Fear: We used to see instant playback in our dressing rooms and we had copies back then. I have no copies now though.
Getting the role
Steph / Kieran: How did you find out about the actor opening in Knightmare for Lord Fear? Do you remember anything about the trial runs for the character?
Lord Fear: I was in an actors' co-operative and the part was advertised. We applied for it, I did a reading, met Tim and Sue and got it. The character just came to me - the voice was a sort of upper class sneery thing with a bit of Oliviers's Richard the Third (now there's a villain I'd love to play).
Kieran: Did you ever feel sorry for Lord Fear? e.g. in him being the bad guy and always losing in some way @ end of season [usually being crushed by something].
Lord Fear: No. He always made a comeback.
Having fun
Kieran: He tried his best, until he was crushed again :-) Did you prefer playing good guys or bad guys?
Lord Fear: I liked playing all my parts. Bad guys are fun though. Being naughty is always more fun.
Steph: I thought you would say that. Did you feel Lord Fear was given a hard time by his minions?
Lord Fear: Yes. They were all idiots.
Kieran: even poor Lissard? ;-)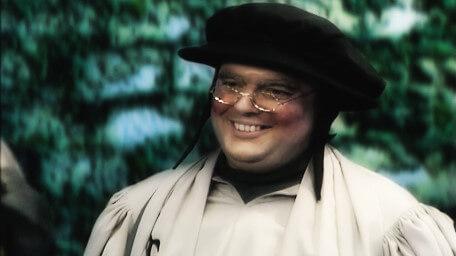 Kieran: You wore glasses for Rothbery, were they just clear lenses or did they have a prescription? Do you wear glasses in real life and if so, did you need contact lenses for Lord Fear, Sir Hugh and Ah Wok?
Lord Fear: I wear glasses but I wore contacts for Fear. Rothberry's specs were clear lenses.
Kieran: I see, I wear glasses too, nasty things! Have you ever been pointed at in the street as "Lord Fear" or recognised for your parts in Knightmare?
Lord Fear : Nope. I was too heavily made up.
Kieran: Yes, true :-) Do your friends/family ever joke about you playing Lord Fear and your other characters? Tease you for it etc?
Lord Fear: They wouldn't dare. :-)
Endings
Kieran: I bet they wouldn't! ;-) Okay, final question I think... What was your favorite end of season? Crushed by dragon, crushed by troll, being frozen up or just a huge rant like Series 8?
Lord Fear: Ice was good but I loved the rant - it's great to let go like that!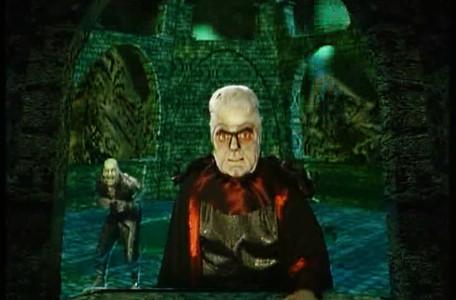 Kieran: Yes, those were the final words in Knightmare. :-(
Kieran: Nice rant indeed!
Lord Fear: Shame it's all finished now.
Kieran: Yes, I think we all think that. Anyway, thanks for your time.
Lord Fear: You're welcome.
Kieran: Any last comments to the "mortals"?
Lord Fear: I hate you all.
Kieran: Right, well, thank you very much for that.
Lord Fear: Except Steph. Don't mention it.
Kieran: Makes us feel loved...
Steph: aww thank you. [Begins to sob]
Lord Fear: Stop sniveling girl or I'll give you something to snivel about.
Kieran: Okay, maybe one day you can make it to Knightmare chat, until then, thank you and keep fearing about :-)