Our very own Alan Boyd interviews Paul Valentine, one of Knightmare's longest serving cast members.
---
Q: So, hopefully starting with an easy one: you're well known for your role as Motley (Series 3-6, 8) and also for Sylvester Hands (Series 5-8). We also know that you played Fidjit. Which other characters did you play during your run?
I played several wall monsters and a Boatman. More on him later.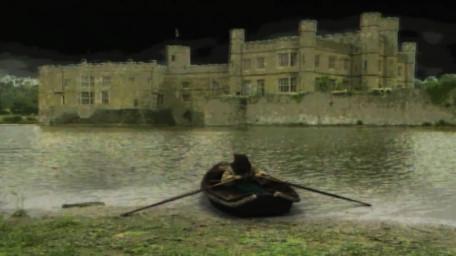 Q: And did you have a favourite?
Both Motley and Sylvester were great characters to play, very different to each other, and in the live TV world that we worked in, they always kept me on my toes!
Q: Did you see Folly before and if so, did this influence how you portrayed Motley?
No. I caught an episode of Knightmare Series 1, but didn't really know what it was about. Also, looking back to the first two series, the two jesters were very different to each other.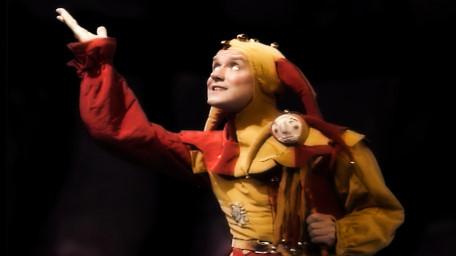 Q: Motley seemed to take a break in Series 7. Was there a particular reason for this?
Aah. This takes us back to the Boatman in your first question.
Tim Child, our writer and creator was really going full out by Series 7. The writing and the production had come on in leaps and bounds, with the advent of many new characters, I felt then, and still do feel, by that particular season, Motley had been rather left by the wayside.
I quote our great writer/creator, Tim Child: "I gave Sylvester the lines, but Mr. Valentine took it to another level."
The compensation I received as an actor was the Boatman! OMG! So difficult to remember the same lines ("Deep is the Dunswater, and cold, the fare for the crossing is silver or gold. ..")
[Knightmare.com note: the Boatman was actually seen in Series 4 and 5. It was Fidjit who appeared in Series 7. Memory is a funny thing...]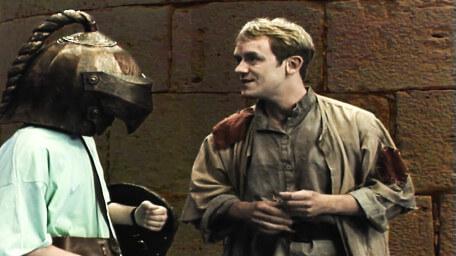 Q: Sylvester Hands first appeared as a wily figure, but changed to become more of a comic character. How much of this was down to your influence?
As an actor, Sylvester was always a kind of Fagin / Uriah Heep character, and not to be taken too seriously, but the comedy came from the interactive situations with the dungeoneers.
I quote our great writer/creator, Tim Child: "I gave Sylvester the lines, but Mr. Valentine took it to another level."
Q: Are there any scenes or incidents that are particularly memorable?
One was a Motley scene featuring a spell for shrinking. At the end of the encounter with the dungeoneer I had to drink the shrinking potion. It was a small urn on the table, and had to act drinking the potion from this little urn.
Having not checked the prop (as I would normally do) beforehand, it was full of sand. Could this have been sabotage by another actor? I will never know! But it seemed an age before the cameras stopped rolling and time out was called!
[Knightmare.com note: this wasn't seen in any quest and may be a merged memory of two different scenes. In one Series 6 quest, Motley had been shrunk by Sidriss; in one Series 7 quest, Hands was tricked into drinking a Freezer potion.]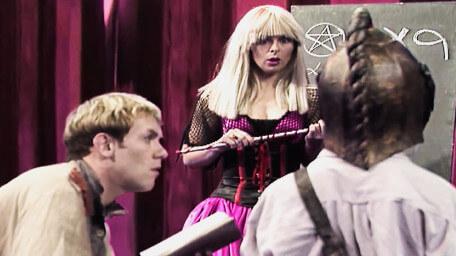 But my particular favourite was a scene with Sylvester having a day off, fishing at a well. I asked our props lady to make a sign for me, which I wore around my neck. And in true Sly fashion, it read 'DAY ORF'. I still have it hanging on my bedroom wall in London. Bless him.
Q: Speaking of sabotage from other actors and other behind-the-scenes entertainment, were you involved in any incidents that you care to admit to?
Well yes, no, yes! Oh what the hell! I once locked a goblin in the loo. (I say I: it was actually Motley.) I had a last minute script to learn, and she had been on standby all morning, she didn't bloody stop talking. So she was confined to the bog! Omg, sorry Janet!!
[Knightmare.com note: we got to meet Janet Lock at our Knightmare Convention in 2014, in the very studios where Knightmare was filmed. She also played other non-speaking extras, including miremen in Series 8.]
Q: Did your work on Knightmare help when you did panto, or was it the other way round?
It helped big time (financially). I did panto before Knightmare, but not at the same level as when I had been in the show for a couple of years. And using 'Paul Valentine from Knightmare' was always a big draw: A lesson I learnt very early on from Uncle Hugo [Myatt].
Q: Are you surprised by the show's enduring popularity and all the media attention it's still getting?
No, not at all! Whenever I am asked about Knightmare, by people who might have caught an episode back in the day, how it was recorded and how we made it (remember, back then Harry Potter wasn't even an idea!), it is a worthy testament to Tim how brilliant it actually was.
Q: Did you see the Geek Week episode that was produced for Google? What did you think of it?
Yes, saw Geek Week and thought it a shame. It was a watered down version of what the show was about. Also very disappointed not to be involved (I wasn't able to be contacted?) And not happy about my replacement being called Sylvester the Jester!
But hey ho, life goes on...
Q: If the dungeon reopened for a whole new series, would you do it all again and would you reprise any of your previous roles?
At my age now (23) I am not sure that tights would be quite suitable, but I'd love to do a Motley voiceover, or play a more mature Motley, more Shakespearean!
I still have another 20 years before I catch up with the real age of Sylvester Hands, I always saw him as much older.
So in answer to your question, yes, bring it on!
Thanks very much, Paul. I know that many fans will be keen to hear more from you!