Inspired by a Roman Baths, this room was often filled with water and provided some interesting and clever challenges in Series 3.
---
The Water Room was inspired by a Roman Baths, with its elegant columns and surrounding perimeter ledge.
On most occasions, the main portion of the room is filled with water. It was a surprisingly versatile room and no two teams faced the same scenario.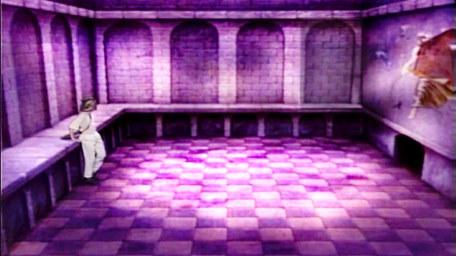 One challenge for teams might be to locate an exit.
One team uses magic to drain the water from the pool, revealing a small exit to crawl through. Another uses a fishing rod to hook an exit from the water onto the causeway.
An alternative challenge was to flee from a danger in the water, such as a magic sword or a shark.
The Water Room was also the dungeon bath for Motley the Jester. But when he turns up, the water has been drained and a cobra turns up to frighten him away.
"Something appears to be stirring beneath the water. I shouldn't wait to find out what!" - Treguard