It's five years since Knightmare Live's first ever show.
---
That performance was a preview show at the Myddleton Arms in north London. The BBC had one of its cameras there, perhaps to make up for not having had any pointed at Knightmare itself. The video includes interviews with Knightmare Live's dungeon-master-mind Paul Flannery (Treguard) and his castmates Tom Bell (Lord Fear) and Amee Smith (Mistress Goody).
A tavern also played a part much earlier in the story of Knightmare Live, as Paul revealed in an article for Knightmare.com ahead of the debut:
Knightmare Live began in the bastion of all good ideas - the pub. A discussion had begun about shows we'd like to see at the Edinburgh Festival... Everything was mooted from the sublime (Crystal Maze) to the ridiculous (Fun House) and eventually, after several ciders, Knightmare came up. The more it was discussed, the more practical and fun ideas presented themselves. Knightmare, it seemed, was do-able.
It was late February 2013 when Knightmare's creator Tim Child gave Paul & co the go-ahead. But what really kickstarted Knightmare Live was, well, Kickstarter. Thanks to 195 backers, the project raised the money it needed and more.
Game on
After a second preview show in London, Knightmare Live headed north, negotiated Hadrian's Wall (there may have been riddles involved) and had a sellout Edinburgh Fringe run at the Gilded Balloon. We counted no less than 11 four and five-star reviews at the time, with comments such as:
'The show doesn't take itself too seriously, though it's actually a real technical achievement' - Broadway Baby
'Great ad-libbing and audience interaction throughout. Delightful and fresh, this was an exciting trip down memory lane' - Informed Edinburgh
'Newbies are quickly won over by the outright surreal spectacle' - Big Issue
'If you loved the original Knightmare, you'll adore the nostalgia value of the original props and in-jokes, but what makes Knightmare Live really great is the ad-libbing from the cast, whose banter never misses a beat as they playfully mess with the rules of the game.' - Independent
Most importantly, watcher after watcher had a fantastic time.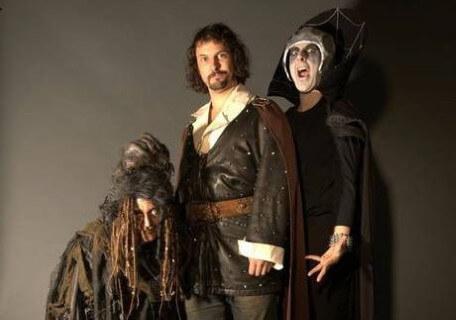 And what a room you're in
In the years since, Knightmare Live have taken to the stage in over 20 different places across the UK. These have included Lincoln and Leicester, Milton Keynes and Margate, Wales and Winchester, Stourport and Salford, Newbury and Norwich (where the show opened our 2014 Knightmare Convention in the very studio where Knightmare was filmed).
While there may have been uncertainty at the outset about how well the staging would work, those doubts were dispelled even more swiftly than saying the letters of UNCERTAINTY out loud in the wrong order. We've seen big spiders, big dragons, little dragons, mock rivalry with Neil Buchanan, changing light-reactive backdrops, life force clocks, a time paradox, armoured warriors, feathered cat people, domesticated goblins, googly-eyed wall monsters and awfully large spinning blades.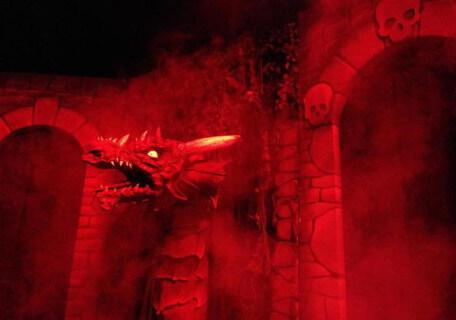 Many watchers who didn't make it onto Knightmare have been able to fulfil their childhood dreams by donning Knightmare Live's Helmet of Justice and becoming dungeoneers. Only this month, one fan's 11-year-old son took on the dungeon, proving how enduring Knightmare's appeal is.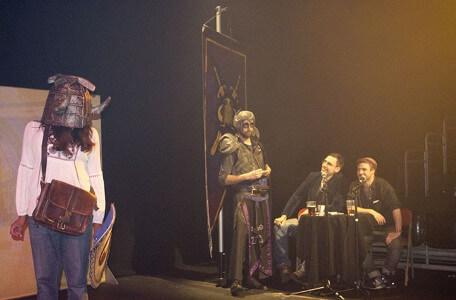 Among those who've served as Knightmare Live advisors are Isy Suttie (Treguard's assistant in the 2013 episode of Knightmare), Alec Westwood (Folly in Knightmare), Josh Widdicombe, Dan Starkey & Neve McIntosh (Strax & Vastra, Doctor Who), Steve McNeil & Sam Pamphilon (Go 8 Bit), Gemma Whelan (Game of Thrones), James Acaster, Stuart Ashen (dungeoneer in the 2013 episode), Sara Pascoe, Dave Benson Phillips and Mark Knight (the original Lord Fear, with Tom Bell referring to him as "Pops").
But the greatest name to be associated is Hugo Myatt. A few Knightmare Live audiences have been lucky enough to witness guest appearances from the man who gave us Treguard. One of these can be seen in Red Bull TV's documentary series Screenland. Another Hugo cameo during next month's shows is on the cards.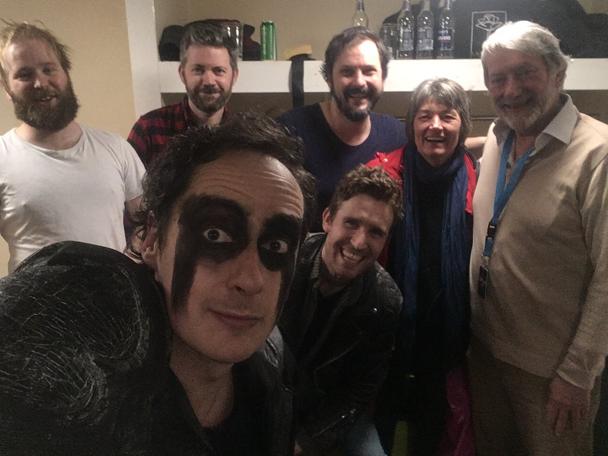 Life force green
The hard work, creativity and talents of the Knightmare Live team have taken Knightmare remembrance to a new level (or back through the three original levels if you prefer) while staying true to the TV series' tremendous entertainment value. From the fellow fans at Knightmare.com, thank you to Knightmare Live's cast and crew for helping us to keep Knightmare's life force green. Here's to the next five years, for this is the stage of adventure.
There's a place in your heart and I know that it is love... and also their social media where you follow the tribulations of Knightmare Live. It all boils down to this. If you like Knightmare, laughter and non-disappointment, we highly recommend Knightmare Live.