David Learner on his son's visit to Knightmare filming and an unrehearsed performance with Hugo Myatt.
---
200 young Knightmare fans from Cheltenham were lucky enough to see the premiere of a stage show especially written by Knightmare's resident elf for the town's recent Festival of Literature. The show was based on the new Knightmare book - The Forbidden Gate - and the audience's quest was to help Treguard and Pickle out of a seemingly ineluctable quag[mire]. Now read on...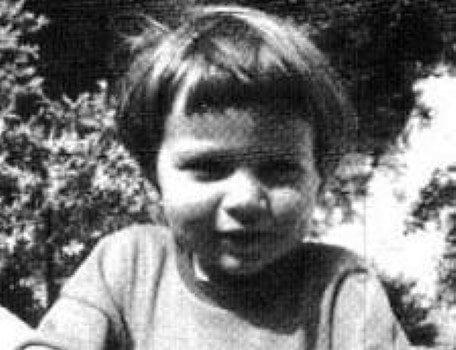 Tom Learner was two and a half when he came to watch us record the present series of Knightmare at the Anglia TV studios in Norwich.
Nothing fazed him: Daddy's pointy ears, Lord Fear in all his terrible glory, the canteen food... "Daddy acker," he would proudly tell people afterwards. "Daddy acker with ears. In Orij." Let's face it - if you're the son of an actor you're going to see some pretty weird things on your visits backstage, and Tom was less than a year old when he saw me dressed as screen star, Marlene Dietrich, in a new show about the life of the actress. When he caught me before the show in platinum blonde wig, silver lurex dress, high heels, ample bosom and heavy mascara his first word was "Daddy!" Says it all, really.
Our visit to Cheltenham was going to be a chance for a few days away from home for all of us and I told Tom where we were going. "Chom Pom," he said, rolling the word round like a gobstopper. And a few seconds later, "Daddy acking in Chom Pom? With Oo-go?" "Blooming right!" I told him. Hugo, of course, plays Treguard. "Daddy acking in Chom Pom with Oo-go" It's so easy when you know how...
Hugo and I were immensely nervous at the point of doing the performance, if only because it was at the unearthly hour of ten o'clock, requiring a make-up call for me of 8.30. I'd written the show no more than a fortnight or so previously, and no sooner had it plopped on the doormat at Hugo's turreted grange than he was off on his hols. All we could do was learn it and then go through it the evening before the show at the hotel we were staying at in Cheltenham. We did go through it, and we seemed to be saying the lines from the same show so all looked good for the performance itself.
We were royally treated, it has to be said, by everyone concerned with the festival, including the hotel at which Hugo and I and Tulah (make-up person extraordinaire...) were staying. There was coffee at the Town Hall, thank goodness, so I removed the matchsticks from the drooping eyelids and Tulah got down to the job of re-creating the cit [sic]. We've made up in some intriguing places for various personal appearances - particularly attractive was the boxroom under the shop in Leeds with no running water and a smell of damp Lego. But this was palatial, accompanied as it was by the tinkling sound of Cheltenham's own spa water running freely nearby - and not down the walls...
I really don't think Hugo or I were prepared for the welcome that we received from the attentive crowd that had turned out on a chilly morning to take part in this latest quest. And this was a quest. Members of the audience were to play the heroes of The Forbidden Gate, not forgetting Gobble the dog (not so much a bloodhound, more of a Pekingese...), and without their support, I knew the show would be doomed. We needn't have worried. If the audience had had their way we'd have had twenty Samanthas, a dozen Jimmys, a handful of Pippas and enough Gobbles to fill Battersea Dogs Home.
With an "ooh" and an "aah" and bags of laughter the show whistled by. Hugo and I eventually collapsed into lunch after a book- signing that left my hand red-raw. You know, it was only after I started in earnest on Knightmare book-signings that I realised just how many ways there were to spell, say, Chris. I've known Kris, Crys, Krys and Khriss. Now I always ask how the name is spelt - even John, or Jon. or Jonn. or...
We had a smashing time in Cheltenham. Thank you if you came along. Next for Hugo and me is the She magazine children's book party on November 7th. And an even bigger audience next time around. And after that who knows? Tom thinks we should do acking on the moon. Hmm... "Enter, alien!", perhaps...
---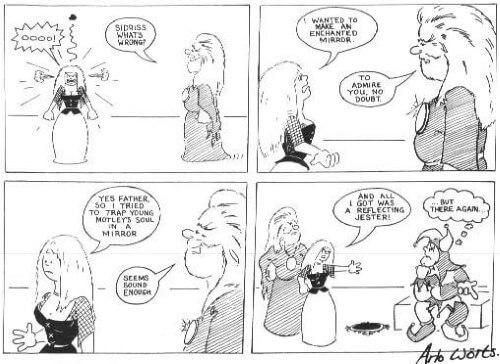 Thanks to Harjinder Lall who sent this magnificent puzzle, along with many others, to Treguard.
Can you work it out?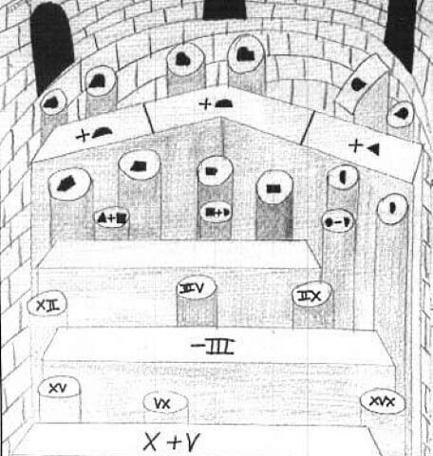 DownloadFull issue 1 (3.25MB)