The Spanish adaptation had a broad range of in-game characters, some following the French version and others following tropes from Knightmare.
---
The principal roles changed radically over the course of the show.
The magician
The show's host was initially known as the Magician (El Mago) and later, the Druid. Unlike Knightmare or its French adaptation, this was played by a different actor for each series and became a completely different character each time.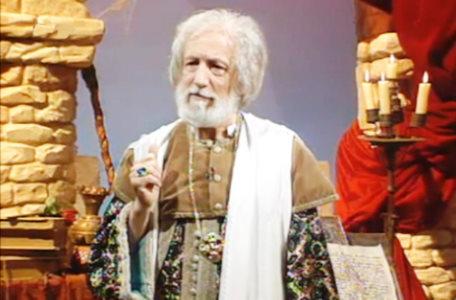 The role was initially played by Eduardo MacGregor, who was a calm and reassuring presence. In the second series it was Ricardo Palacios, who had previously played a riotous in-game character. He is just as loud and disruptive in this role, shouting over the guiders and even touching them physically to put them off.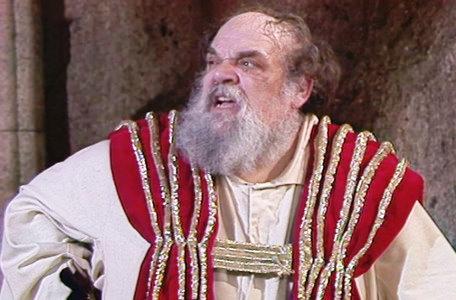 In its final series, the 'Druid' was played by Ismael Abellán (1994). He is a Gandalf-like savant with white robes and long white hair and beard. His character returns to the restrained manner of the early Magician but he looks pensive and mystified by most of what goes on.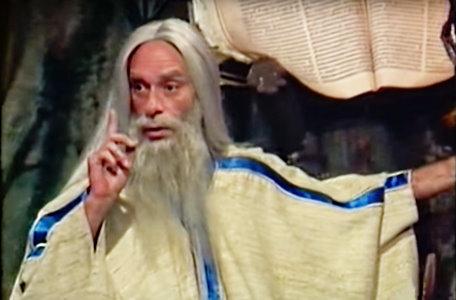 The opposition
In the first two series, the El Señor de la Maldad (Lord of Evil) was played by Daniel Fortea. He wore black robes and was seen only in the final showdown. The role was largely ceremonial as he was easily defeated.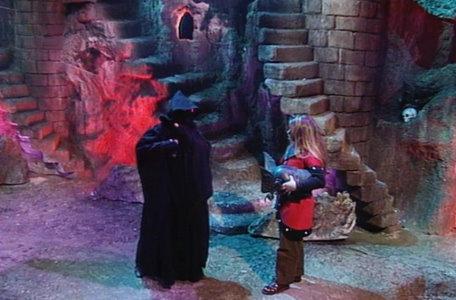 In the third series, the opponent was a red devil with a green henchman - closer to Lord Fear and Lissard. In cut scenes (like spyglass sequences) the pair are seen in the devil's chamber discussing plots over a bubbling pool.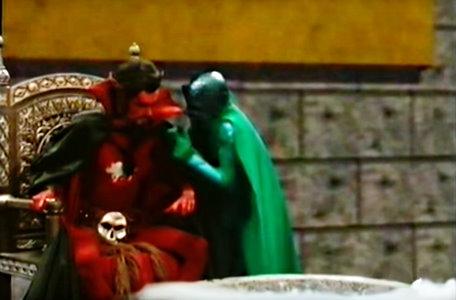 The players
The Spanish version had a king in place of Merlin. He initially appeared in the throne room once the knight had crossed, becoming a gateway to the final encounter. After the first series, he appears as an in-game character in other areas of the dungeon.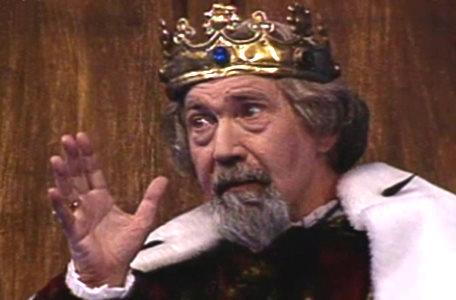 Several other characters had a regal theme, with a princess and a frog prince. The White Lady (La Dama Blanca) appeared through a window in the throne room to test the teams. In the third season, Maria Sanz plays a variant of these characters, known as Lady of the Lake.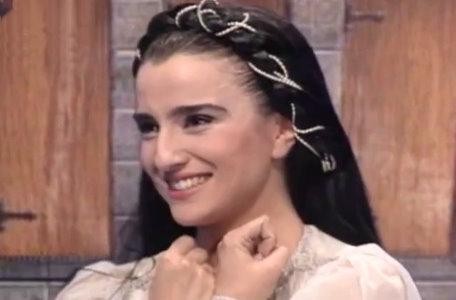 Other characters included:
a crone (in the vein of Mildread)
two female warriors (in the vein of Velda and Gundrada)
two wall monsters (in the vein of Brangwen and Golgarach)
two jesters/troublemakers (more menace than Folly or Motley)
a monk (in the vein of Brother Mace)
a ghoul, Tados (same as Le Chevalier du Labyrinthe)
a knight without memory
two elves, Lindal and Ghendan
a tree troll.
Series 1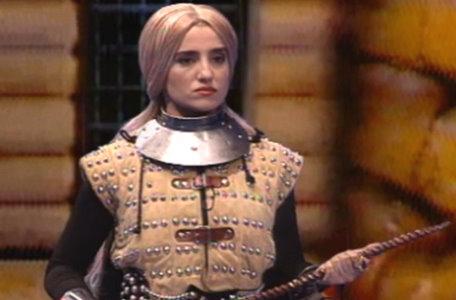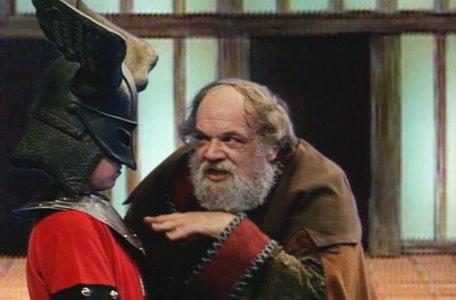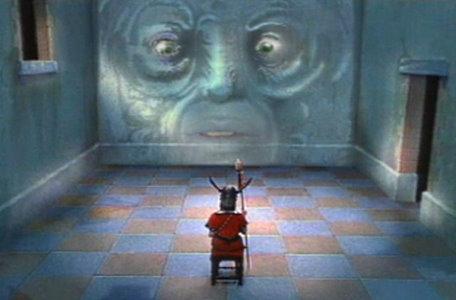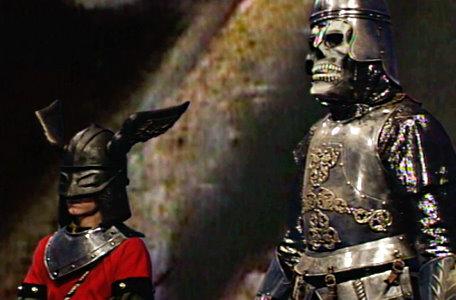 Series 2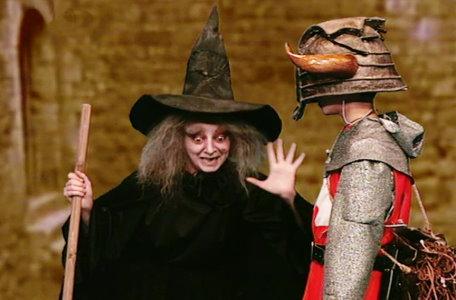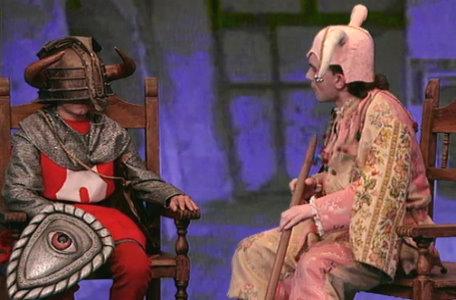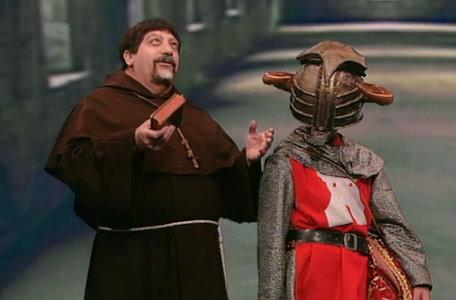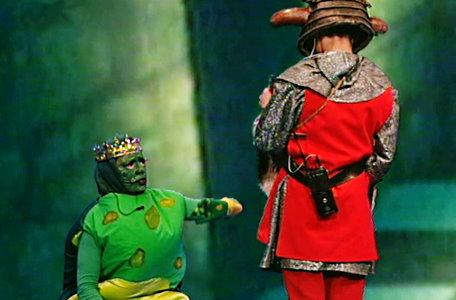 Series 3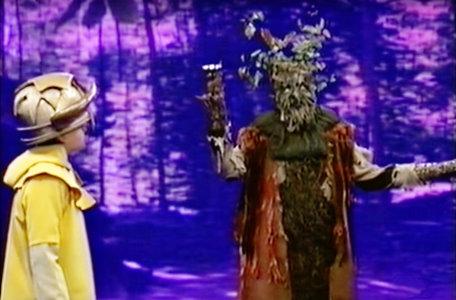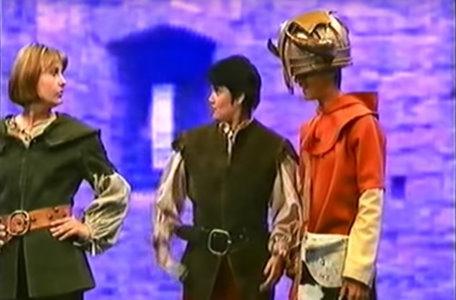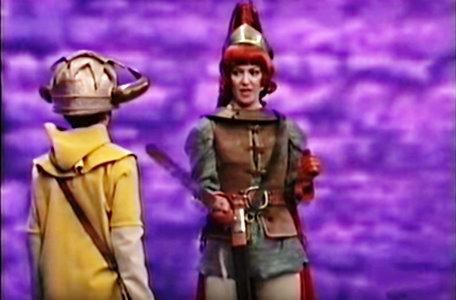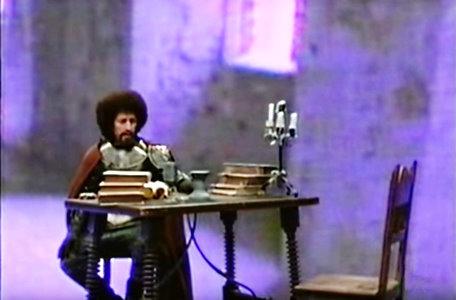 Series Credits
Eduardo MacGregor (Series 1)
Ricardo Palacios (Series 1-2)
Ismael Abellán (Series 3)
Daniel Fortega (Series 1-2)
María Sanz (Series 1-3)
Marga González (Series 1-2)
Miguel A. Suárez (Series 1-3)
Tito García (Series 2)
Alberto Papa-Fragomén (Series 2-3)
Juan Alberto López (Series 2)
Víctor Rubio (Series 2)
José Luis Viñas (Series 2)
Braulio Agustín (Series 2)
Javier Balibrea (Series 3)
Amparo Bravo (Series 3)
Andrea Masulli (Series 3)
Amparo Climent (Series 3)
Jose Carabias (Series 3)
Virginia Chavarri (Series 3)
Miguel Gredilla (Series 3)
Veronica Lago (Series 3)
Eligio Palomino (Series 3)
Carlos Poval (Series 3)
Ángel Solo (Series 3)
Carlos Nicolás Rivas (Series 3)
Pedro Saldana (Series 3)
Chelo Vivares (Series 3)
Andrés Asenjo (voice) (Series 1-3)
Teresa Abad (voice) (Series 1)
Javier Fuentes (voice) (Series 2-3)
Director: Rafael Calvo Beca