The final dungeoneer of Series 3 is rescued by Treguard as the dungeon disintegrates.
---
Team 12: Christopher, James, Alex and Tim from Bristol
Christopher reaches the Level 2 clue room.
Chris reaches the Level 2 clue room. As he approaches the table, a horn blasts. The room begins to quake around him.
Treguard: "Extreme warning, everyone. That was the first blast. For time is turning and this age of the dungeon is approaching.
"When the third blast sounds, the dungeon will disintegrate, only to reform for the next phase."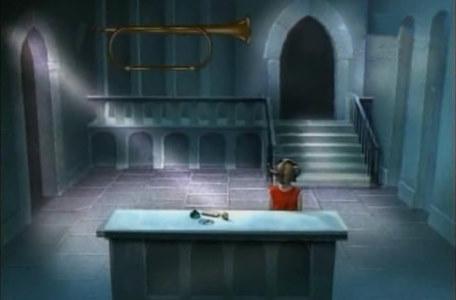 The second blast sounds. The dungeon visibly disintegrates around Chris.
Treguard: "There! That was the second blast. Now all adventuring must cease while we rescue Chris and save him from destruction. Spellcasting, UNITE."
Chris is transported back to the antechamber.
Treguard: "There! Just in time. Now watch all of you, for the final blast must sound."
The third blast sounds. The dungeon explodes into shades of technicolour.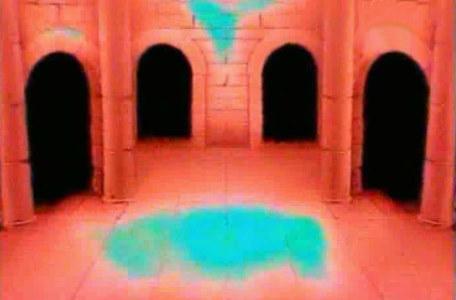 Treguard: "As for you - well, I suppose you weren't in any real danger. But then you didn't answer the challenge, did you? Perhaps you'll find the courage and wits to do so next time."
"And when will that come? Who knows? But one thing is certain...
"When the time turns once more,
and the fire burns as more,
and the gauntlet is hurled down,
then will the age of Knightmare be found."