Of the thousands of teams that applied to appear on Knightmare, less than 1% made it onto the show. The lucky few who did were chosen by audition.
---
How it worked
As a series was ending, idents at the end of the episodes invited viewers to apply for the following year.
Application forms went out in the New Year. The form was two pages of double-sided A4. Each team member would write about themselves and attach a passport photograph. There was also space for parents to sign.
The deadline to apply was the end of February. Teams were then shortlisted for regional auditions to be held during the Easter school holidays in March/April.
Auditions were held all over the country - in regional TV centres, hotel conference areas, and Anglia Television's HQ in Norwich. London auditions were held at Anglia Television's offices in Leicester Square.
Less than 1% made it
The figures:
Around 3,000 teams applied each year.
Around 200 auditions.
Fewer than 20 invited to take part.
Appearances depended on the progress of previous teams, so many standby teams also missed out.
Knightmare's formative years were the busiest, with 13 teams appearing in Series 2 (1988) and 12 teams in Series 3 (1989).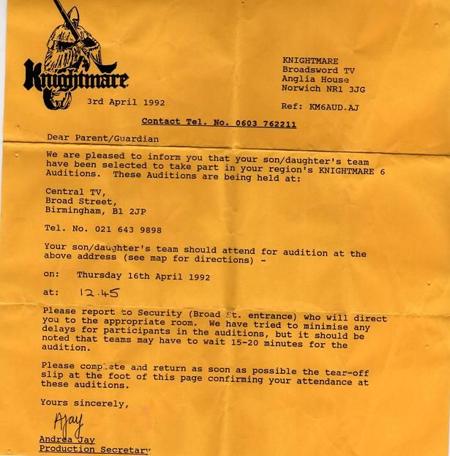 Forum member fivegoldstars auditioned for Series 6 and went on to appear on Timebusters, Broadsword's game show for Children's BBC.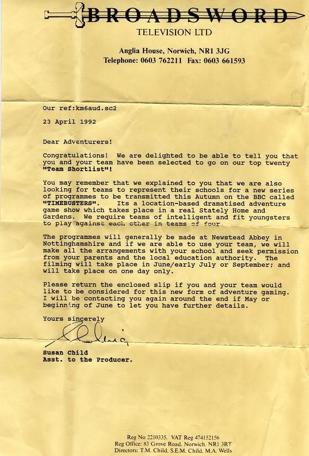 Experiences
Discover more about the audition experience.
If you auditioned for Knightmare or appeared on the show, we'd love to hear about your experiences too. Get in touch.