A challenging and pressurised card game that claimed several victims.
---
Series | 7, 8
Level | 2, 3
'Play Your Cards Right' was the penultimate challenge in Lord Fear's Black Tower of Goth in Series 7. It also featured once in Series 8, where Goth became Level 2.
Dungeoneers emerged on a very thin ledge against the wall and had to select the correct card from each pair to summon the next stage of the crossing.
Selecting the incorrect card would withdraw the ledge from beneath a player's feet, ending the quest.
The sequence begins easily. Most teams recognise the need to follow suit. Towards the end, however, the sequence switches to number.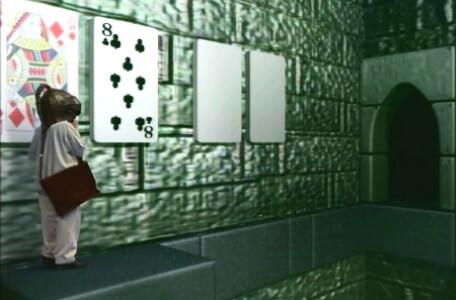 The only time we see the solution discussed in full is Series 8, Team 3, who discuss the sequence change in detail. The advisors are split but eventually make the correct decision.
Every team that reaches this puzzle is pursued by goblins and pressurised into fast decisions. A further hazard is the gap between ledges.
The difficulty of the puzzle required every team to use sight magic of some description. This gave dungeoneers the same perspective of themselves as the advisors would see.
The only advice I can give you is to keep a record of all your judgements.