How did it all begin? And what has happened since?
---
On 1st January 1999 - less than five years after Knightmare ended on CITV and two months after its repeats finished on the Sci-Fi Channel - Nicholas Lam launched knightmare.clara.net.
This is a tribute site to Knightmare - the very popular award-winning interactive adventure game show, broadcast on 'Children's ITV' in the UK between 1987-1994. I was a big fan of the show, and even applied to be on it a couple of times. With no existing UK based website dedicated to the show, I decided to create one using much of the printed information I had on it already.
It didn't take long for visitors to arrive. Among the first month's guestbook entries is this from Alan Boyd:
As a Knightmare contestant, I have to say that this site is brilliant and continues to display how truly amazing the TV show is. A worthy way to commemorate its memory.
Explore an archived version of the website from April 1999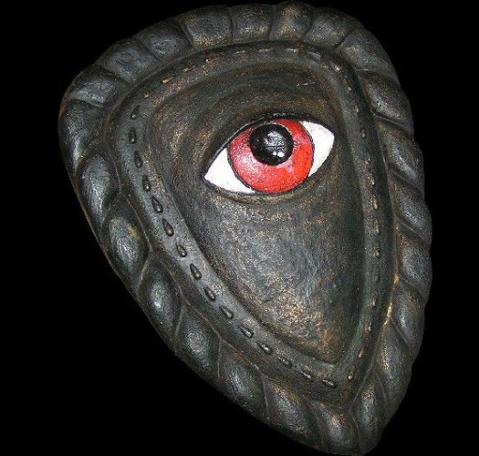 Spellcasting: B-I-G
The website grew throughout its first year, with updates nearly every week.
By the end of August it featured sections on Series 1-5, a four-part history of Knightmare by creator Tim Child, every article from official newsletter The Quest, several fanzine issues (including The Eye Shield's Bring Back Knightmare campaign section), exclusive articles by fans, a CITV section, RealMedia video clips and theme tune audios ('now in MP3 format to save space and improve download times').
This wasn't the first Knightmare website, nor the last, but it was the most ambitious. Creating a complete multimedia guide to a 112-episode TV series (not to mention newsletters, books, games...) was no small challenge. The story in Knightmare's 1991 Amiga and Atari ST game manual almost seemed to predict this:
They call them computers, Master. The land within the computer is called The Cyberspace I think, though my own people scorn it as necromancy.

Treguard nodded. "This Cyberspace is as dangerous as any land beyond the portals, it is apparently endless and limited only by the memory capacity of machinedom. The greater dungeons now lie within it, and you must seek them. This is the challenge you journeyed so far to meet. If you accept it, then seize it!"
The website was a dotcom by the end of 2001. By July 2003, it had had over 250,000 hits. By May 2006: 500,000.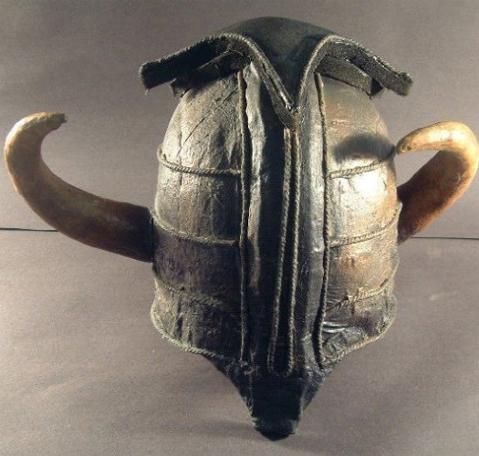 "The dungeon that you challenge is constantly growing"
August 1999 was when the website gained a discussion forum. It helped us unite into a fan community and continues to be an informative, entertaining place.
Sunday 10th October saw the start of the Knightmare chatroom. It soon became the venue for a 'live interactive adventure game' known as the Knightmare RPG. Here's Nic's report on the 13 November game:
After picking up a red stone, they got seriously stuck on the riddles and gave up. The next dungeoneer was (aka Tim Child) who also died in level 1 after stepping on the wrong colour on the causeway puzzle.
Knightmare Chat still takes place on Sunday evenings, with interactive games, and you're welcome to drop by.
After Nic stepped down in 2009, Alan Boyd a.k.a. Mystara took over as webmaster. Since transferring to a new site, we've grown into a web team of five.
In our second decade we've branched out across the digital realm, with affiliated accounts on Facebook, Twitter and YouTube. In 2014 we took things to another level (as Knightmare teams aspire to do): thanks to a successful crowdfunding campaign, we were able to hold a Knightmare convention in the very building where Knightmare was filmed.
In 2017, we cemented our presence with Knightmare.com staff T-shirts. They have a certain phrase of Treguard's split across both sides. We don't expect to grow out of them.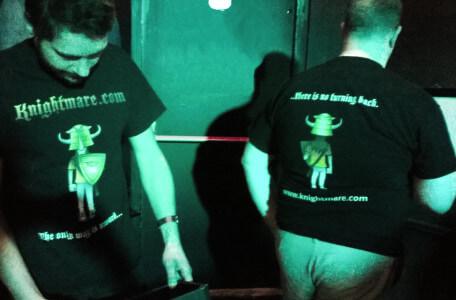 Technomagic
The non-dungeon dimension in 2019 is quite different from the one this website was born into. Back then, people dedicated time to going on the internet; now people dedicate time to not going on the internet. The Lord Fear on our shoulder might even claim that this world doesn't need a Knightmare website the way it once did: after all, there's Wikipedia for the main facts, Google for pictures, social media for a shared nostalgia fix and extended videos if you know where to look.
The Treguard on our other shoulder knows better. Knightmare doesn't just deserve to be remembered, referred to and rewatched. It deserves to be celebrated and appreciated in detail, as an exceptional TV series. That's why Knightmare.com is still here after 20 years; that's why we're here; that's why we plan to keep adding to Knightmare.com throughout 2019.
The dungeon salutes you
To everyone who's visited; to our insightful and creative contributors; to all of you who've said and done things to make Knightmare.com such a rewarding side-quest: thank you. By boosting this website's life force, you've boosted Knightmare's life force and helped us demonstrate the show's enduring popularity. Without that, many great Knightmare moments of this millennium - such as repeats on Challenge TV and the CITV channel, the convention, the brand new episode in 2013 - would have been far less likely.
Thank you above all to Nic Lam, a.k.a. Illusion, for facing the dial-up door and stepping boldly forward. It's a privilege to continue your work and keep the torch alight.