Remember Lord Fear's first appearance on Knightmare? It was 25 years ago today.
---
Series 5 Episode 1, first broadcast on Friday 6th September 1991, marked the debut of Knightmare's new bad guy a.k.a. the Opposition. We were introduced to him via a spyglass, in what became the first of many peeks into his lair.
"I was convinced that the drama game engine of Knightmare must be driven by a really solid baddy.
"When Mark Knight walked into the audition room, he certainly didn't look the part. He was slightly plump, far from muscular, and of medium height. Within 10 minutes however, I became convinced that Mark was our missing weapon.
"It is not just those crows-wing eyebrows, or the natural mocking, sneering tones. There is a genuine competitiveness in Mark which dictates that no scene or role is too difficult, no character part too demanding, nothing beyond him.
As a great natural competitor, the adventure game is made for Mark, and no-one, not even Hugo Myatt, attacked the tasks with such zeal.
Mark also played Sir Hugh the knight, Ah Wok the trader and Rothberry the apothecary.
Series 5-8
Lord Fear spent his first series on Mount Fear (lucky he didn't set up shop in Mount Pleasant) in front of his crystal ball. This made him a sitting duck when Queen Aesandre of Winteria froze the dungeons in the series finale.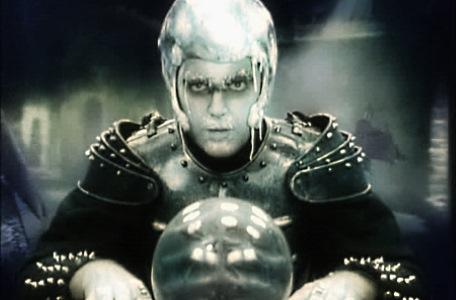 Lord Fear returned in Series 6 with a new-look lair, courtesy of Knightmare illustrator David Rowe. He started to receive visitors (goblin master Skarkill) and to get out and about, finally meeting dungeoneers. Still not immune to slapstick, he was given a magical dunking in his own viewing pool...
...and crushed by the red dragon he'd sent to destroy Knightmare Castle. He vowed to return, and to turn dungeoneers into "GOBLIN FODDER!"
By Series 7, Lord Fear had relocated to the Black Tower of Goth, embraced technomagic and gained a fresh (well, new) henchman in the form of Lissard the Atlantean. For all his scheming, two teams got the better of him. And the troll he sent against Knightmare Castle ended up squashing Lord Fear & co, in the episodes repeated by CITV for their Old Skool Weekend in 2013.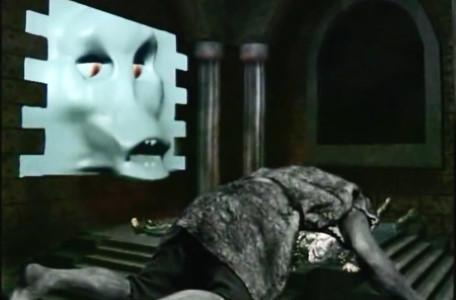 Series 8 saw Lord Fear in another new lair (Marblehead) with a new costume. He was defeated once more, by a team who turned their dungeoneer into a fireproof paladin.
He ended the series unscathed, but had no time for Treguard when the Dungeon Master asked for his surrender: "You must be absolutely out of your tiny MIND!"
Paper, CGI and the stage
Lord Fear also appeared in the official Knightmare books. In The Forbidden Gate, he had taken over Knightmare Castle. In the seventh book, he made it onto the cover.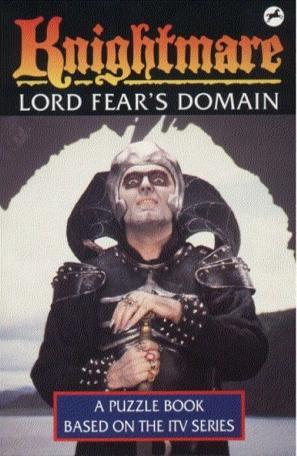 What became of Mark Knight? He's still acting, with theatre work a specialty, only now he does it on the other side of Atlantis in Philadelphia (pronounced "Villa del Fear").
Interviewed in 2001, Mark said he'd play Lord Fear again 'in a heartbeat'. He got that chance three years later when the Knightmare VR pilot was made. Search on YouTube to see the CGI technosorcerer in action.
Lord Fear took on a life beyond Mark Knight, when he was included in Knightmare Live. Since 2013, a succession of actors have relished this role, including Tom Bell and Brendan Murphy.
Geek Week, Convention and beyond
But the real revival came in 2013, when Mark Knight returned as Lord Fear in the special Geek Week episode of Knightmare. With goblins, spiders, fireballs and mobile phones at his disposal, he proved he was still a force to be reckoned with.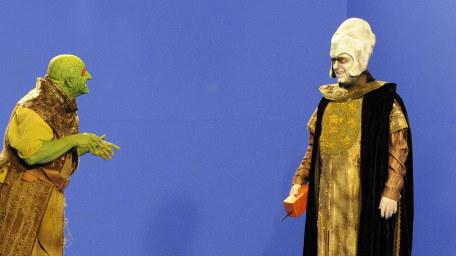 And then he went and fireballed the fourth wall. Lord Fear got up close and personal with Knightmare's loyal watchers at our convention in 2014. As well as answering questions as himself, Mark appeared in character at the Late Night with Lord Fear chat show, the merciless Lord Fear's Midnight Hunt on the streets of Norwich and, perhaps surprisingly, in a dungeoneer appeal video.
Keen to make his mark (no pun intended) in the digital realm, Lord Fear is on Twitter (@LordFearIsBack) and Facebook (Domini Fear). A recent tweet from the Knightmare.com account - 'Busy day scouting locations for a new Lord Fear's Midnight Hunt in London today. #knightmarecon2?' - strongly suggests that Lord Fear still has no intention of surrendering.
Fear, Fire, Foe, Fun
What made Lord Fear so special? His barbed wit was legendary. But it could easily give way to ruthlessness and an arsenal that ranged from glowing red eyes and booby trapped wands to giant hands and the odd android. And just as Tim Child had hoped, Lord Fear drove Knightmare's dramatic element forward. Mogdred may have been more terrifying for some watchers, but Lord Fear was more persistent. So much so that neutral characters like Treguard and Hordriss were obliged to take sides, turning the dungeons into a battleground between Opposition and Powers That Be and giving contestants a greater stake than ever. Knightmare remained a place of imagination, but became unimaginable without the dangerously entertaining technosorcerer.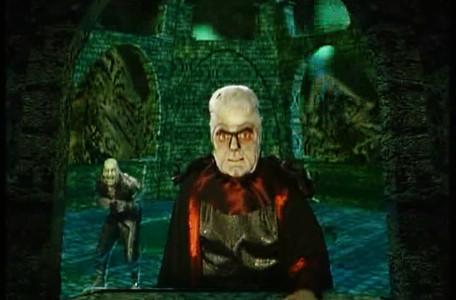 So raise a spyglass to Lord Fear. Chances are you haven't seen the last of him.
P.S. Our thanks to the ever impressive Curious British Telly for their recent blog post putting Lord Fear among the Greatest Evil Villains of British Children's TV. Rumours of a blackmail plot by the Opposition are entirely unfounded. We think.