Zzap!64 magazine's November 1988 issue had a feature on Knightmare.
---
In November 1988, while Series 2 of Knightmare was continuing on Children's ITV, the computer games magazine Zzap!64 (also known for a time as Zzap!C64 Amiga) had an article about the programme, titled A Knight To Remember, in its 43rd issue. The magazine tended to specialise in reviews of Commodore 64 games but Knightmare was deemed worth breaking tradition for.
It's no surprise that the article shows an appreciation of Knightmare's computer game heritage (as would later be discussed by creator Tim Child in his History of Knightmare), explaining how its gameplay surpasses text adventure games: 'No more actions you can't perform, no more words that the computer won't understand.'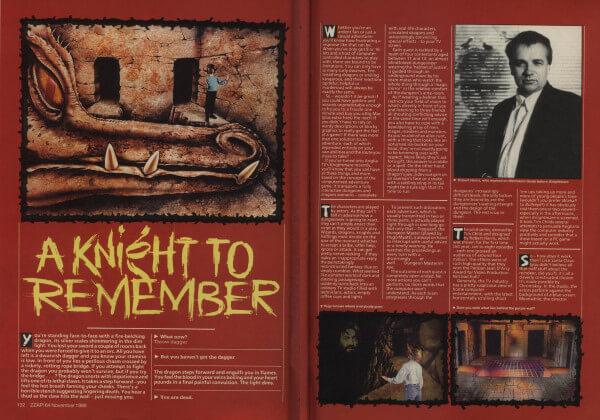 It then looks behind the scenes at the technical side of making Knightmare's 'cleverly constructed illusion', with a focus on the work done by illustrator David Rowe and designer Robert Harris, who is pictured alongside his bank of computer equipment. A 'step by step guide to how it's done' reveals much about the journey from written brief to completed dungeon room, including David Rowe's use of slides and Robert Harris' use of clay animation. Chromakey and the Spaceward Supernova are mentioned too.
In terms of trivia, you'll also find out some of the costs involved in making Knightmare, what The Travelling Matte Company did and the Parisian award that Knightmare won. Fans of David Rowe's artwork (and aren't we all?) may be interested to note that the Series 2-3 room sometimes referred to by fans as the Fire Cave is one of those pictured in the article and is apparently given a name.
The article concludes by acknowledging Knightmare's role as a pioneer in the realms of television and fantasy and looking to a future filled with 'fantastical and fearsome productions'.
DownloadView full article (567.19kB)
Credit
Publication: Zzap!64
Issue: 43 (pp. 132-134)
Year: 1988
Thanks to The Def Guide to Zzap!64 and its webmaster for allowing the scans of the article to be shared here.