C+VG Magazine's Deputy Editor, Paul Boughton, discovered Tim Child's gaming pedigree in an article on Knightmare in 1987.
---
Paul Boughton went behind the scenes at Anglia as the final team of Knightmare Series 1 navigated the perils of the Knightmare dungeon.
He explains how the game works, including how the special effects are added by Robert Harris's Spaceward Supernovas.
"A dream come true for games players," he says. "It's a pity that everybody can't have a go."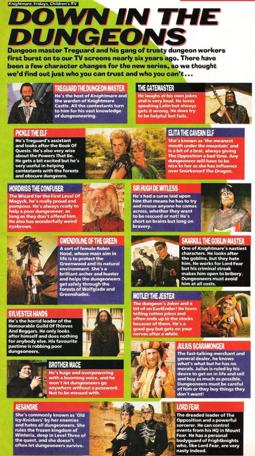 There is also an interview with Tim Child, who explains why Knightmare represents a unique challenge for adventure game players.
"A lot of adventure games are based on mapping and solving a dungeon," says Child. "Once a good team worked out the correct route they would have cracked most of the puzzles. Contestants won't escape from the Knightmare dungeon that easily."
Child also speaks of his admiration for games programmers, rating Steve Turner's RanaRama as a standout.
My son reckons I'm the only over-40s arcade champ going.
DownloadSee full article (1.86MB)
Credit
Thanks to freelance writer and artist Zoe Robinson who recalled this article during a Twitter discussion with friends and made the scans available.
Publication: C+VG
Issue: 73
Year: 1987