The Sci Fi Channel launched on 1 November 1995 in the UK. It bought the rights to Knightmare for three years, so the show formed part of the schedule from the very beginning.
---
The Sci Fi Channel is a cable and satellite channel that specialises in science fiction and fantasy shows. The channel launched in the UK in 1995, three years after its US counterpart (now Syfy).
The channel purchased the rights to show Knightmare from its launch in November 1995, making the show available to watch again less than a year after its final episode was broadcast.
However, viewers were limited by the move away from terrestrial television.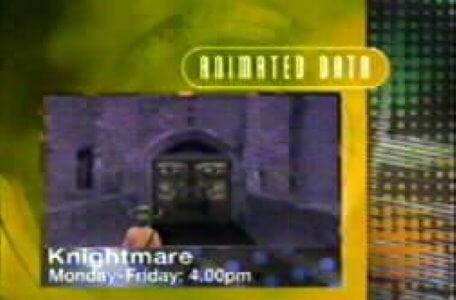 1995-96
During 1995-1996, Knightmare was broadcast at 10.30am on Saturdays and 4pm on weekdays. (Nicely scheduled for children returning home from school, but little use to the majority who could not receive the channel.)
1996
By mid-1996, Knightmare was shown at 9.20am on weekdays and 11.30am at weekends. From October to December 1996, it was shown only at 10:00am on Sundays.
1997
From 4 January 1997, Knightmare appears to have formed part of the channel's extended broadcasting hours. It was shown at 7.30am on Saturdays and Sundays and 10:05am Sundays. Before this, the listings started at 8am. This schedule continued throughout 1997.
1998
From January 1998, Knightmare was repeated again from Series 1, but only to UK Cable viewers (as Sky did not broadcast Sci Fi until 8am) at 7.30am on Saturday and Sunday mornings only. It was shown until the end of October 1998 (midway through Series 4), when the broadcast rights expired.
Trailers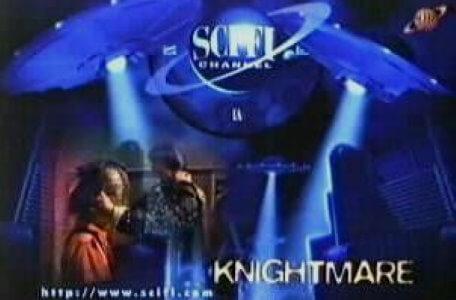 Among the new changes for viewers, the Sci Fi Channel included a break in the middle of Knightmare episodes to show their own trailers. This was a common practice with their broadcasts.
This caption screen was used at the beginning and the end of the break. The voiceover read, "Knightmare continues after the break", followed by "You're watching Knightmare" when the episode resumed.