11-year-old Paul Hawkins completes his fanfic from the previous edition. Plus, a chance to visit the studios.
---
In TQ2 club member Paul Hawkins started to tell his tale of Knightmare Castle...
Pickle has seen Lord Fear preparing to advance on the castle, aided by the wicked Aesandre and an army of evil goblins! He rushes to tell Treguard, who immediately summons the help of Hordriss the Confuser, Sir Hugh de Witless and Brother Mace...
With Treguard's little army they went down to confront Lord Fear. As they reached the army Lord Fear shouted - "Attack!!". Now read on for the gripping conclusion...
The battle raged for hours. You may think that Treguard's army would be out-numbered, but remember Treguard had magic on his side. Hordriss and Treguard combined their powers and wiped out half the army. Brother Mace and Sir Hugh together captured Skarkill. Hordriss battled against the rest of the army, Treguard took on Lord Fear. Treguard drew Wyrmslayer, his sword and Lord Fear drew Fear Striker, his halberd. They locked in battle.
Treguard suddenly slipped and fell on the floor. He was the perfect prey for Lord Fear! Taking a different grip on Fear Striker he was about to lay the final blow on Treguard. Treguard had dropped Wyrmslayer, and he couldn't reach it...
As Lord Fear was about to bring his Fear Striker crashing down Treguard lifted his feet and flipped Lord Fear over the top of his head. He jumped up. He didn't have enough time to get Wyrmslayer and gathering power from inside himself let out a streak of lightning which hit Lord Fear.
Lord Fear slumped to the floor. Dead. The power of good had triumphed.
Wow! If you'd like to write a story about Knightmare we'd love to see it. Maybe there'll be room for it in a future issue of TQ!
---
Smirk with Smirkenorff II by Arlo Worts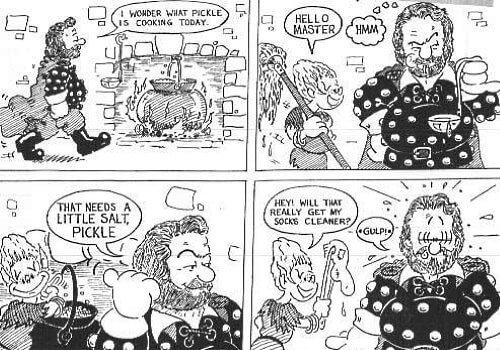 Win a trip to Knightmare Castle!
This is your chance to see for yourself how Knightmare is created! You and a friend will be our guests for the day at Anglia TV's studios in Norwich - to have lunch with Treguard and Pickle, watch Knightmare being recorded and find out what really goes on behind the scenes in television's best known dungeon! And there'll be a goody-bag of souvenirs of your day to take home!
Just answer these 5 questions - you'll find all the clues you need in this issue of TQ!
Which company manufactures the Knightmare board game?
Re-arrange the letters LOST ARROW to find a well-known Knightmare cartoonist!
Tim Child's elder sister used to work for Richard Branson. True or False?
What's the name of the theatre in Swindon?
You'll find a cavern elf in the Woodlands of Gravesend. True or False?
Now complete this tie-breaker: "I would like to visit Knightmare Castle because..." in no more than 12 words, and write it on a postcard together with your answers to the questions, your name, address, club membership number and daytime phone number.
---
A cold and slimy welcome to this year's Knightmare for...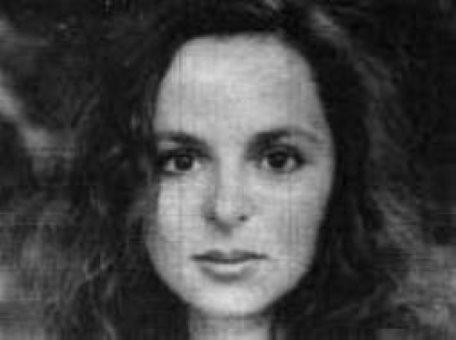 Iona Kennedy - Playing a scatterbrained sorceress who looks like she should have L-plates on shouldn't be too daunting for Iona, who's already done the odd witch during her career as an actress!
"The L-plates aren't too far from the truth, though," she admits. "I learned to drive about two years ago but only in the last month or so have I driven on a motorway on my own! I was terrified!" So now we know what noise a witch makes on the M1 - broom, broom!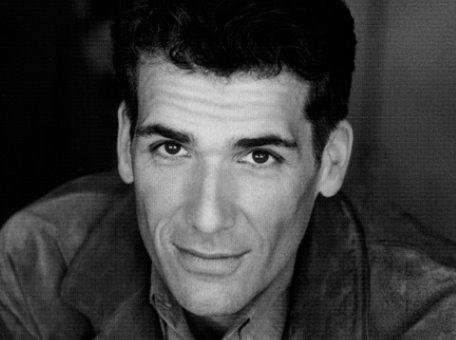 Adrian Neil - The secret behind Adrian's performance as the shiver-me-timbers Shipmaster?
"I get seasick!" he says. "I must be the only pirate in the world to turn green in salt water! I can't even look at a packet of salt and vinegar crisps!" But Adrian plays a mean guitar, which could well come in handy for his other role as a lute-playing troubadour. His ambition is to re-create Michael Caine's role as spy Harry Palmer in The Ipcress File. Not a lot of people know that.
---
'Jokes'
Motley the Jester runs into the bar of the Crazed Heifer and asks for a glass of water. Scooping the glass up he runs out of the bar. Two minutes later he's back.
"Another glass of water please," he gasps.
"Certainly," says the barmaid, "but wouldn't you prefer to drink it in here?"
"It's not for drinking," says Motley. "My house is on fire!"
DownloadFull issue 3 (3.39MB)