Latest updates include Lord Fear and Lissard at a wedding and Majida meeting a dungeoneer in the real world!
---
Congratulations!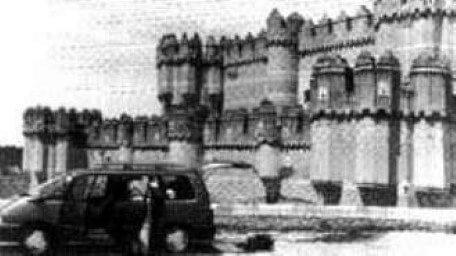 The Knightmare wedding of the year took place on Sunday 31st of October when Cliff 'Lissard' Barry married Juliet. Guess who his best man was? The man himself - Mark "Lord Fear" Knight! What an event - Lord Fear looking after Lissard! By all accounts Mark behaved himself impeccably, carrying out all the duties expected of a best man without referring to Cliff as "Tuna Breath" once.
P.S. I hope that you noticed that they chose an appropriate day for the wedding - Halloween!!!
In a Pickle
I have had a number of letters from you lot asking what exactly did happen to Pickle. Well I asked Treguard, I asked Tim Child, I even asked Majida and they were all very loath to tell me anything so I have decided to set off an a Quest all of my very own. A Quest for Pickle!
My one and only lead is that no-one has heard from Elita either and I know they had some mutual elvish friends in Wales (or it could have been that they have some mutual friends who ARE whales, it is always so difficult to understand what those two are on about as they tend to talk in riddles all the time!) so once this issue has gone to press I shall pack my bags, or at least a spotted hankie, and head for the land of the Celts to see if I can track him down.
I promise to report back in full in the next issue, unless of course there is some mysterious reason for their disappearance that is...
Meeting in the mall?
On a recent shopping trip to the Hammersmith King's Mall, Jackie 'Majida' Sawiris bumped into a familiar face - Naila Khan, dungeoneer extraordinaire. Jackie says that she didn't recognise her straight away due to the lack of Helmet on her head!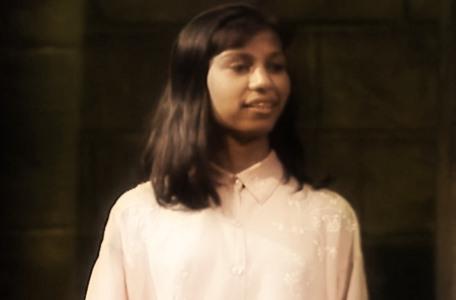 Jackie has been very busy since filming Knightmare, she has been in a tea commercial for the Middle East and will make her big screen debut in an American movie called "Death Machine", a cross between Robocop and Alien - all sounds a bit too scary for me. Jackie comes from America and will be spending Christmas there where she will be showing all her family what Knightmare is all about.
Sssecretss!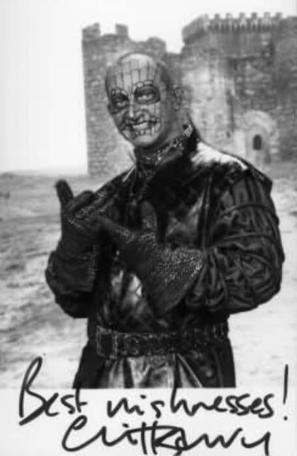 The Quest caught up with Cliff Barry after his honeymoon to ask him a few personal questions about what it felt like to play an amphibian.
When your agent first told you that the part of Lissard was half man half lizard did it put you off?
Not at all, mind you I do tend to play more unusual roles like bareknuckle prizefighters, pantomime villains and scoutmasters.
I understand that some actors pick on a certain physical part of the role in order to get into character, did you do this?
In a way it isn't necessary with Lissard because the make-up and costume go a long way to shaping him physically
Was it easy to learn to Lissssp?
Lisssp? What lisssp? You mean I've got a lisssp! Oh no! All that money spent on elocution lesssonsss! All wassstedl
How long does it take for the special scaly make up to be applied?
About an hour of patiently sitting in the make-up chair to get it on and about the same length of time frantically scrubbing to get it off - I often missed bits and got a few odd looks on the bus.
Was it difficult to get used to Lord Fear insulting you all the time?
Oh, that's just his little way of letting me know that he appreciates me. I think. We're great chums really..- I mean only this week he showed me how generous he can be when he gave me three things completely unexpectedly - a clip around the ear, a poke in the eye and a kick up the..
How do you see the character developing next year?
Well, I'm sure Lissard will be more settled in next year, getting used to the alarms and other strange noises in the tower. I'd like him to have a bit of "claws on" experience dealing with the kidsies - maybe dropping a couple of them in the sewers of Goth, who knows?
I have to ask - do you really smell of tuna?
I was rather hoping you'd ask that - yes I do. I love it! I can't get enough of it! Tuna sandwiches, tuna gateau, tuna shampoo...
Finally what do you really think of Lord Fear?... Go on you can tell me, it won't go any further... Clifford, Clifford!
Oh well, I suppose he's only trying to protect himself.
DownloadFull issue 1 (3.17MB)