Dungeoneers who passed into the serpent's mouth risked falling into its stomach. Teams had to improvise to fashion an escape.
---
Series | 1, 2, 3
Level | 1, 3
One of the more unusual rooms of the early series was a creature's stomach.
Dungeoneers might arrive here after passing through the serpent's mouth in Lillith's Domain or when they are swallowed on the serpent's tongue.
Dungeoneers entered using a blue slide that is layered behind one of the chambers of the stomach wall.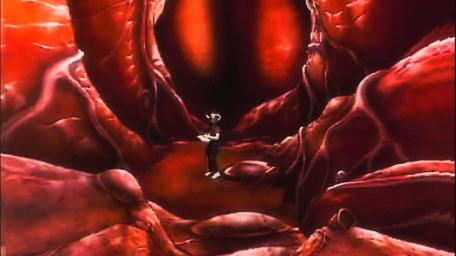 Digestion
The chamber is textured and atmospheric, with arteries and valves that are animated to show a living creature.
Treguard warns that the dungeoneer is being digested, which makes life force fade more rapidly.
The only escape was to upset the stomach using an object, such as a bar of soap or a bad egg.
The animation would get faster or the room would warp as the monster expelled the dungeoneer into the next chamber.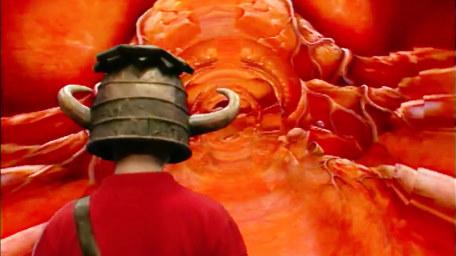 Walk-through
Some dungeoneers in Series 3 passed through a stomach bearing the same hallmarks as the handpainted room.
This was formed using CGI to create a circular tunnel.