Remembering Bill Cashmore (1961-2017), who appeared in Series 8 of Knightmare.
---
Bill played four characters in Knightmare's eighth series: Honesty Bartram the trader, Snapper-Jack the fool-taker and Bhal & Shebah, split personalities of the Lord Fear's red dragon Bhal-Shebah.
Bill quickly made his mark. In the first episode of Series 8, Bhal-Shebah stopped a team on Level 1 and relished the moment
Honesty Bartram and Snapper-Jack, meanwhile, ranged across all three levels of the dungeon, challenging teams with deceptive deals and wily riddles.
For many of us, Snapper-Jack was the standout performance, enhancing the renewed claustrophobia of the Series 8 dungeon. He was menacing and unsettling as a Knightmare adversary should be, with his reedy voice, giant net and snapdragon arm. A shame we never got to see him capture a fool.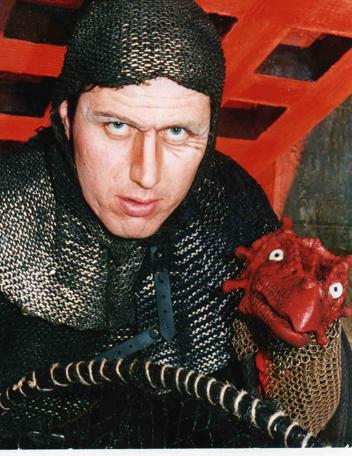 Bill Cashmore was certainly no fool. He performed with Cambridge Footlights, a contemporary of David Baddiel and Nick Hancock. He went on to appear in everything from Kavanagh QC and Casualty to Men Behaving Badly and Brass Eye. You may also remember his sketches on Gimme Five on Saturday mornings in the '90s.
But there were far more feathers in Bill's cap than acting. He was also a teacher, playwright, journalist, Green Party candidate, cricketer, marathon runner, husband, cat owner and collector of baked bean tins.
People have been paying tribute to Bill on social media:
'Modest, genuine and fun, he will be missed.' Louise Rowntree
'Many a funny evening with him at the home of cricket @Chingford_CC. A true gent.' GripNorgate
'Everyone appreciated Bill's wonderful sense of humour and he delivered several hilarious speeches at Club Suppers over the years. Bill will be sorely missed.' Chingford Cricket Club
'Words do not begin to describe how deeply saddened I am to hear of my friend and political colleague Bill Cashmore's passing. A genuine and honest individual - a real pleasure to know and work with him.' Lawrence McNally
'I had the very good fortune to be in a stage version of The Lion, The Witch, And The Wardrobe with Bill many years ago; he was incredibly patient and very good to all the child actors. He was also great in Knightmare. RIP Bill.' Terrance Edwards
'Absolutely gutted to hear that Bill Cashmore who played the Pie Master and The Man in Fist of Fun has died. A truly lovely and funny man.' Richard Herring
Our condolences to Bill's family, friends and colleagues: the many lives and livelihoods to which he made a difference. We will always be grateful to Bill for being such a memorable part of Knightmare.
As he showed in his entry in our guestbook and his contribution to Knightmare's 25th anniversary documentary, it was a show he cared about not just while he was in it, but before and after too:
It was a great experience for me, I was actually a fan of the show before I joined so it was an honour to join the cast. I loved every minute of it and it's a real joy to see that Knightmare, although sadly over, lives on in everyone's hearts.
Thank you, Bill.