Discussions with Frightknight sculptor Ron Lyon and Knightmare gamebook author Dave Morris.
---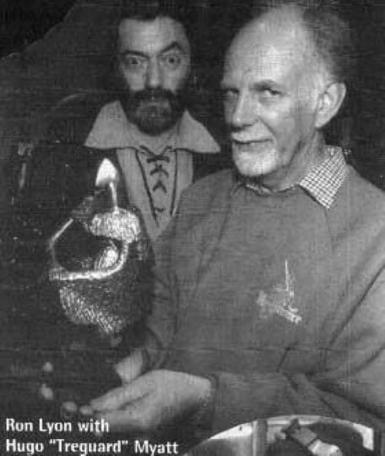 I was an office worker but I had always made things in clay, wood, bits of stone, anything that gave a three dimensional image. The possibilities of steel and its strength slowly dawned on me. With an hour or so instruction on 'how to weld' and a few bits of scrap I was on my way.
The early pieces were terrible, but gradually the ideas developed and my technique improved. The present style of work, the knights, sorcerers, monks and spectral figures, started when a gallery I knew had some vacant space when someone pulled out at the last moment. I had been reading a book on Robert the Bruce and quickly made four figures, a King, a monk, a kilted figure with a broadsword and an axe man. They were very successful.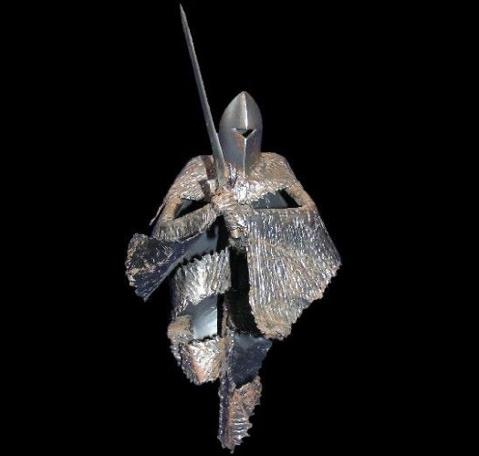 There are now two family types of the smaller pieces, ones with full cloaks, standing on their own two feet and the ghostly ones, supported by a swirl of heavily welded steel formed to resemble wraiths of smoke or flame. Within each family there is a range with helmets and a range with cowls and an assortment of weapons.
---
Flights of Fantasy
Dave Morris
I must have been about eight or so when I first discovered fantasy adventure. It was a big book of the Norse myths which I lugged home from the local library and read avidly through the weekend. That was quickly followed by the Greek and Egyptian myths, then by the stories of the Round Table. I was thoroughly hooked by these old tales - which had been having the same effect on youngsters for thousands of years, after all. I don't think my English teachers were too pleased; from that moment on, whenever we had to write a story in class, mine were always fantasies.
My introduction to modern "sword and sorcery" came a few years later, via Michael Moorcock's Martian series and Lin Carter's excellent stories of Thongor of Lemuria along with the books of Edgar Rice Burroughs who I suppose started the whole thing.
In between all this I had been working my way towards reading Physics at Oxford. Just before going up to college, in 1976, role-playing exploded on to the scene. It grabbed me at once: the idea of inventing your own characters and developing them in ongoing storylines. So began an enthusiasm which continues to this day - and a very useful one it has been, too, since I often use the ideas from my role-playing games as the basis for books. The second Knightmare novella - The Labyrinths of Fear - actually started life that way, as an episode from an Arthurian role-playing game I was playing.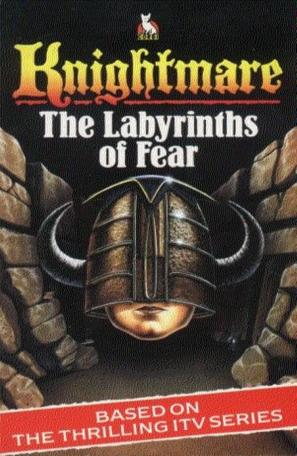 My preferences in fantasy are for the writers who can evoke something primordial or eerie with their work, I recommend anything by Micheal Moorcock (but particularly his second cycle of novels, beginning with The Bull and The Spear). Tanith Lee, Lin Carter or Gene Wolfe. The old favourites are still worth a look too - Beowulf, Le Mort d'Arthur, Grettir's Saga, Gawain and the Green Knight and so on. But surely the greatest Fantasy Author of all must be Jack Vance, whose constant inventiveness leaves me amazed and envious.
I'm also something of a cinema buff, but I rarely enjoy fantasy films. With all my diverse interests I probably enjoy writing the Knightmare books most of all my work. Here I can meld the strands of role-playing, fantasy and high adventure. I do plenty of other stuff, of course - Mutant Turtles, Tiny Toons and whatnot, all great fun, but Knightmare comes closest to my true love of 'wizardry and wild romance'.
DownloadFull issue 2 (3.1MB)