February
17th February 2000: Hygo Myatt in Chucklevision
On 16 February 2000, Hugo Myatt made an appearance as a 'vampire' on CBBC's Chucklevision. The episode was called 'Out for the Count' (Series 12, Episode 9).
Chuckle brothers Barry and Paul travel to Transylvania to enter a garlic hunting competition and win a Golden Globe. Despite the warnings about Castle Vlad, Paul is determined to stay there. A cautious Barry is concerned about their host.
"I think I'm in a nightmare," he says. Paul says it's a common tactic to "keep the opposition awake all night".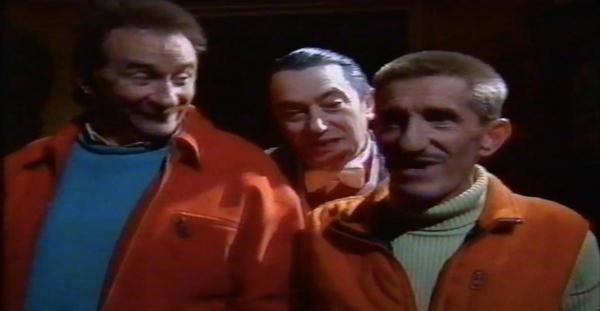 Hugo springs out on the pair and chases them around one of the upper decks of the castle. Finally, Paul pauses everyone in front of a mirror. They can see the count's reflection - so he can't be a vampire.
Between a name-drop, a reference to the opposition, and a amber globe, there are clues to suggest a nod to Knightmare with Hugo's appearance. With the former dungeon master still active in children's television, we can only hope that a return to the underworld of Knightmare folklore may still be a future prospect.
October
10th October 2000: Hugo Myatt: On Golden Pond
Hugo Myatt (Treguard) has appeared in a local paper news story about an Ernest Thompson play, 'On Golden Pond'.
Hugo directed this play at the Grand Theatre, Wolverhampton, between 25-29 July 2000. It is well known that Hugo has a repertoir in theatre directing work as well as acting.
If you're wondering what the play was all about, here is the description from the theatre's website:
Ethel and Norman return to their summer home on Golden Pond. Their divorced, middle-aged daughter, her new fiance and his son arrive, and when the couple leave for Europe, they leave the teenager behind. The boy gradually becomes the grandchild the couple long for as they rediscover their own youth. Memorably filmed winning Oscars for stars Henry Fonda and Katherine Hepburn, this is a wonderfully funny and touching play.
Thanks to Neil Jones for the information.
23rd October 2000: Robot Wars
Fans of the BBC 2 series Robot Wars may be interested to know that a forthcoming episode this series will feature a robot called 'Knightmare'!
The episode in question will be broadcast in December 2000.
It is part of Heat L, which features these robots:
Fat Boy Tin
Knightmare
Spawn of Scutter
Banshee
Plunderbird
Vercingetorix
Thanks to Jon Harris for letting us know of this.
23rd October 2000: Hugo Myatt in Ancient Greece
Hugo Myatt (Treguard) has been spotted on a BBC TWO Schools programme about Ancient Greece.
The programme was in two parts. The first was about pottery, and Hugo played the role of Stephanos, a stall holder demonstrating various items. The second part was about the legend Theseus and the Minotaur, where Hugo narrated the story.
Robert Boyce e-mailed us to say that it was on Thursday, May 20th 2000, but we don't know which programme it was. Keith Golding also tells us that Hugo narrated the background storylines to Greek legends in the same programme.
More information eventually came to light: the programme was an episode of Zig Zag.
November
27th November 2000: BBC Radio Two Steve Wright Quiz
Knightmare cropped up as a question on a BBC Radio Two quiz this week.
On the 'Steve Wright in the Afternoon' show on 23 November 2000, the following quiz question was asked:
"What TV show had Treguard as its Dungeon Master?"
Thanks to Richard Lowe for this information.
27th November 2000: Hugo Myatt in Aladdin
The pantomime season is coming, and Hugo Myatt (Treguard) will be starring as Abanazar in 'Aladdin' at the Lyceum Theatre, Heath Street, Crewe, Cheshire from Friday 8th December 2000 until Saturday 6th January 2001.
Also starring will be Rod, Jane and Freddy (from Rainbow), Otis the Aardvark (from CBBC), Greg Donaldson (from The Bill), Emma Steadman, Geoffrey Davies and Ruth Carr.
Thanks to Emmett B for informing us.
27th November 2000: Joanne Heywood in Heartbeat
Joanne Heywood (Stiletta) from Knightmare Series 8 was spotted in ITV's drama 'Heartbeat' last night playing the character 'Rachel Osborne'.
Thanks to Richard Lowe for this information!