January
25th January 2015: Erin Geraghty in Birds Of a Feather
Erin Geraghty, who played the witch Mistress Goody in Knightmare Series 4, recently appeared in Birds Of A Feather. The popular '90s sitcom was revived in 2014, moving from BBC1 to ITV, and has returned for a second series which airs at 8:30pm on Thursdays.
In the latest episode 'Tracey's Choice', Erin had a guest role as Gail, a member of Dorien's book group and fan of her racy memoir
The episode can be viewed on ITV Player, with most of Gail's lines at 17:10.
Erin has previously appeared in TV shows including Z Cars, EastEnders, The Bill, Last Of The Summer Wine and Mistresses.
March
4th March 2015: Misprinted David Rowe books available
A number of misprinted versions of David Rowe's Art of Knightmare book have been mistakenly produced.
David Rowe is selling these for the mere price of £15 (at the time of writing) on his Knightmare shop on his website. This price is a bargain. So for all of you that missed the initial campaign, be sure to go and grab one quickly before they disappear!
May
31st May 2015: David Verrey in The Game
Knightmare actor David Verrey had a guest role in Cold War spy thriller The Game, currently airing on BBC2.
He played Edgar in the fifth episode of the mini-series, which can be seen on BBC iPlayer. David appears at 4:32 in the first scene after the opening titles, and also from 48:53 to 53:12.
In 1989 he played McGrew and the wall monster Golgarach in Knightmare Series 3.
His TV roles in the last few years have included the High Septon in Game Of Thrones and Raul Mendoza in The Musketeers, and he previously guest starred in Doctor Who.
October
3rd October 2015: David Verrey in Holby City
A recent episode of Holby City featured David Verrey, who played McGrew in Knightmare Series 3.
Broadcast on 29th September, it is currently available to watch on BBC iPlayer. David appears in scenes at 13:05, 16:20, 20:09, 23:15, 27:41, 34:52, 40:05 and 47:55, as pungent patient Brendan Roberts.
David Verrey's roles in BBC drama series this decade have included Garrow's Law, Ripper Street, The Musketeers and The Game.
3rd October 2015: Mark Cordory and Legend Quests
Mark Cordory, who designed and made the Knightmare dragon Smirkenorff, is providing props for theatrical project Legend Quests.
It's a live fantasy dungeon adventure game set to take place near Bodiam Castle, where some of Knightmare was filmed. There's a very healthy appetite for both interactive theatre and fantasy these days, proved not least by two years of solid popularity experienced by Knightmare Live (two more shows of the Level 2 run in January 2016; Level 3 shows promised for the future).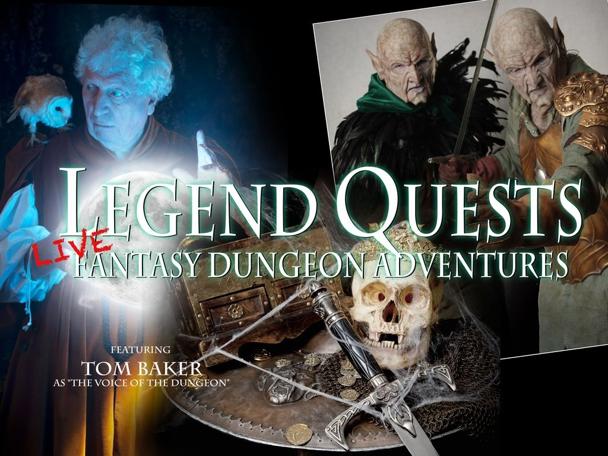 Legend Quests is still at the crowdfunding stage, having transferred recently from Kickstarter to GoFundMe, so please do chip in if you like the look of it and spread the word too.
4th October 2015: Dungeoneer updates: Autumn 2015
In September, Giles Milner (the dungeoneer from Team 8 of Series 4 in 1990) was a guest on the Back to the Eighties podcast. Though his appearance on Knightmare was technically not in the Eighties, it turns out that his first application to be on the programme was.
Hearing Giles talk about his Knightmare experiences - some you may know about from his Knightmare.com forum posts, some you may not - is not just fascinating but entertaining too. You can find the podcast here.
YouTuber Stuart Ashen a.k.a. Ashens (the dungeoneer from the YouTube Geek Week episode of 2013, and a Knightmare Live advisor in 2014 and 2016) posted a video review of the official Knightmare board game, in which he played it with fellow YouTuber Larry Bundy Jr. This was followed by a video clip from RetroUnlim in which Stuart and Larry briefly discussed the game.

It's always reassuring when those who experienced the realm of Knightmare from the other side of the fourth wall are happy to revisit it.
7th October 2015: Knightmare on BuzzFeed and Den of Geek
A couple of articles on Buzzfeed that take in Knightmare.
The article, 36 Kids Who Had A Total Nightmare Playing "Knightmare", takes an amusing and animated look at - spoiler alert if you can't remember your 4 times table - 9 teams who met particularly unfortunate ends. Thank you to Hilary for a fine celebration of Knightmare's entertaining near-impossibility and for the hat tip to Knightmare.com!
BuzzFeed UK's association with Knightmare has continued with another of its writers, Robyn Wilder. Alongside her fellow LUV & HAT founder Stuart Heritage (of looking-forward-to-CITV-Old-Skool-Weekend-Knightmare-repeats-but-not-so-keen-on-Spatz fame), Robyn took a turn as a Knightmare Live advisor at the Udderbelly on 6th June.
SO ANYWAY here I am LIVE ONSTAGE at @KnightmareLive last night (cc @imaginationpipe@stuheritage@grhmspncr) pic.twitter.com/F92dmpgZ0W

— Robyn Wilder (@orbyn) June 7, 2014
2015
On BuzzFeed: We asked Americans to watch British kids' TV shows - and they were baffled, by Scott Bryan.
Treguard is included in Den of Geek's recent list of the 50 Most Terrifying TV Characters. You can find Treguard at #42
Pete Dillon-Trenchard, who wrote the section on Hugo Myatt's Treguard, has himself appeared alongside the Knightmare Live incarnation as an advisor at one of the 2013 preview shows (which we reviewed).
Den of Geek has also featured Knightmare this year in its list of the top 50 80s kids' TV themes.
10th October 2015: David Rowe: Artwork and Expo
Artist David Rowe, who drew and painted rooms for the Knightmare dungeons in Series 1-4 and beyond, not to mention Knightmare book covers and the board game, has been going from strength to strength in recent years. His crowdfunded book David Rowe's Art of Knightmare has gone down a storm and is still available via his website's shop. If Knightmare lit anything in you from a spark to raging dragonfire, you'll find this book worth every groat.
It's difficult not to hunger for more such enchanting artwork, so it's been a pleasure to see David sharing a selection of special images from the Indiegogo campaign and a series showing Knightmare rooms as rediscovered by Knightmare archaeologists. To find out more about these dungeonmasterpieces, see David's blog and, to buy prints, his website. Guaranteed to liven up your chambers more than a wall monster who insists his amusing name is not amusing.
11th October 2015: Cliff Barry in Unforgotten
Knightmare's Clifford Barry appeared in the first episode of ITV's new crime drama Unforgotten. The six-part series started on Thursday 8th October and is available to watch on ITV Player. Cliff has a small role as Lassiter, a used car dealer helping out with a police investigation, in a scene with Sanjeev Bhaskar at 33:25.
Cliff joined the cast of Knightmare in 1993, playing Lissard, Raptor and Brother Strange in Series 7 and Series 8, and returned as Lissard in the 2013 Geek Week episode and was a guest at the first Knightmare Convention in 2014.
His other recent TV appearances have included Game Of Thrones, Law & Order: UK, and a recurring role as PC Bob Gran in Coronation Street. Cliff's website can be found here.
25th October 2015: Michael Cule on Channel 4
What a weekend to be a Knightmare fan. The truly awesome Series 3 back on free-to-air television for the first time since 1989; references to (the) Knightmare, life force and portals in Doctor Who; a future Knightmare monk's head blowing up.
Perhaps we should elaborate on one of those.
On Saturday (24th), Channel 4 showed an episode of It Was Alright in the 1980s titled Fear in the 1980s (which could have been entirely about Knightmare but wasn't). During the last ten minutes, a clip was shown of the 1985 telefilm Max Headroom: 20 Minutes into the Future, in which a man's head exploded. That man was played by Michael Cule, who later played the Latin-speaking tavern monk Brother Mace in Knightmare Series 4, Fatilla the Hun and Doorkis the Weeping Door in Series 4 and the Gatemaster in Series 5.
November
22nd November 2015: Hugo Myatt and David Rowe at H-Con
Hugo Myatt, whom you may remember as Treguard the Dungeon Master in Knightmare, is due to be a guest at Hampshire TV, Film & Comic Con 2015 in Portsmouth on Sunday 13th December 2015. So too is David Rowe, Knightmare's illustrator and the man behind David Rowe's Art of Knightmare. Both were among the guests at our inaugural Knightmare Convention in Norwich last year.
Find out more about H-Con 2015 on their website. We modestly suggest the following provisional timetable:
10:00 Watch Series 3 of Knightmare in its regular one-hour slot on Challenge in your travellers' lodgings
11:30 Arrive at H-Con in time for Hugo's 'Guest Photoshoot In Costume' slot, which runs until 12pm (book via the H-Con website)
12:00 Settle down for Hugo and David's 30-minute 'Let's Talk Knightmare!' Q&A Session
If you go to H-Con, we'd love to hear about it and see any photos. Wishing you a fantastic day!