April
24th April 2013: Knightmare in The Guardian
The Guardian has published an article by Ben Child (son of Tim Child) regarding how Knightmare was made.
The piece is part of The Guardian's 'How We Made...' series, and includes interviews with Tim Child (Knightmare's creator) and Hugo Myatt (Treguard).
Be sure to check the article out online, here. If you have any opinions on the article, you are welcome to share them on our forum.
July
26th July 2013: Article in the Daily Mail
The Daily Mail has an article with regards to Knightmare making a one off return to Youtube.
Victoria Woollaston has written a piece on the return of Knightmare on Youtube as part of Youtube's Geek Week. Enjoy!
28th July 2013: Wired.co.uk on Knightmare comeback
Wired.co.uk looks ahead to the YouTube episode of Knightmare and whether it might spark a full comeback for the popular show.
"I thought I was being scammed," says Tim Child, creator of Knightmare, when he was contacted about creating a new episode. "I decided to go ahead and give it a blast."
Knightmare is being reprised for YouTube Geek Week after marketers saw an interview from Ben Child (Tim's son) in The Guardian and were reminded of how good the show was.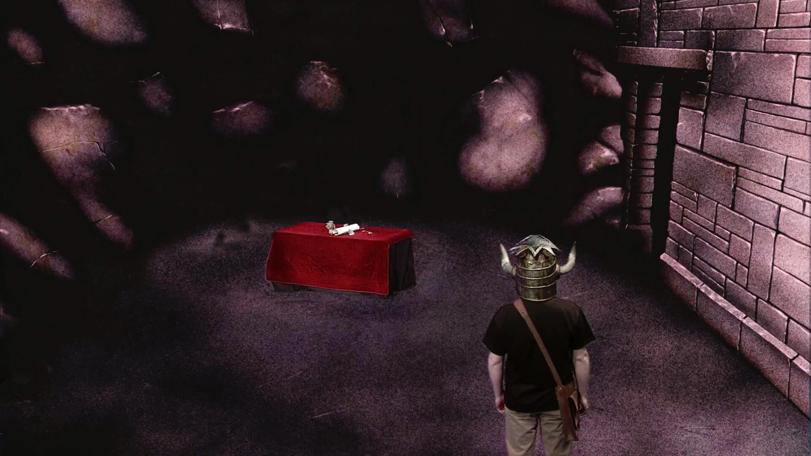 Tim has come out of retirement to direct the new episode and paid tribute to fans for keeping the legacy alive.
"The Knightmare fans... they've just built up this huge internet presence and cult presence and they go on and on," he says.
The reason why we're back here and making Knightmare again is really because of the Knightmare fans who've never let the bloody thing go.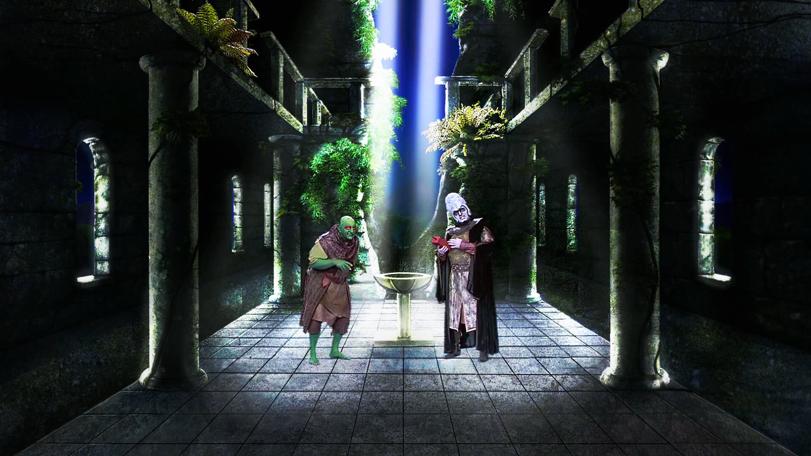 So, with the age of fantasy as strong as ever, could this spark a revival for the show? Child says it's either an ending or a new beginning, but he'll be happy to hand over the reins.
"I really couldn't even begin to tell you which it's going to be," he says.
People have said to me, 'what would a new Knightmare be like?' and I say, 'well, it'll be commedia dell'arte meets Game of Thrones, only with less sex and more jokes'.
"It doesn't rely on me to have a life," he adds. "I've almost deserted it for the last 19 years."
Read the full article: 90s gameshow Knightmare reborn for YouTube, may spawn new TV series
August
11th August 2013: Submit a Question for Jules Bryant
Do you have any questions for the actress who played Gwendoline and Aesandre in Series 5?
In 1991, when she played Gwendoline the Greenwarden and Queen of Winteria in Series 5 of Knightmare, she was credited as Juliet Henry-Massy. She's now known as Jules Bryant and has kindly agreed to catch Knightmare fever by giving an interview for Knightmare.com. If you have any burning (or indeed freezing) questions for Jules, please submit them via our Facebook page, our Twitter account or our forum.
22nd August 2013: Knightmare Live on KingdomFM
Gemma McLean of KingdomFM interviews the cast of Knightmare Live. You can catch the interview below!
29th August 2013: Hugo Myatt in Vendetta movie
Hugo Myatt (Treguard) appears in the hard-hitting action film Vendetta, directed by Stephen Reynolds and produced by Jonathan Sothcott.
Special ops interrogation officer Jimmy Vickers (Danny Dyer) tracks down a gang who slaughtered his parents while avoiding being found by his old unit and the police.
Vendetta is released in UK cinemas on 8th November 2013; age rating to be confirmed. Hugo can be glimpsed in the official trailer:
Another film starring Hugo Myatt, The Shadow of Bigfoot (a thriller written and directed by Philip Mearns), is currently in production - see the Facebook page for updates and photographs.
29th August 2013: Double Knightmare on Challenge
The Knightmare double bill returns to Challenge TV on August 30th 2013 and September 2nd 2013.
While having classic Knightmare return to Challenge this year was exciting enough, watchers who crave more than one episode at a time are in luck. Tomorrow morning (i.e. Friday 29th August 2013, for those without a reliable calendar to hand), Challenge's 'Summer Boot Camp' weekday morning Series 2 repeats will continue with Episodes 5 and 6 being shown back to back from 10am to 11am. Then on Monday (2nd September 2013), Episodes 7 and 8 will be shown from 9:30am to 10:30am. These four episodes contain more than one significant if not legendary Knightmare moment. If you're in a position to watch them, why do anything else?
The Challenge Late Zone showings of Knightmare Series 2 will continue as normal on Friday night at 10:30pm. Tomorrow's will be Episode 9. Thursday 5th September 2013 will mark 25 years since Series 2 first started on Children's ITV, making Challenge's timing really rather good.
September
21st September 2013: Adrian Neil in Shakespeare Biography
Knightmare actor Adrian Cohen-Neil appears in a short video about Shakespeare on the Biography Channel's website.
See 1:05, 1:35, 2:35, 4:01 and 4:30 for contributions from Adrian, who played troubadour Ridolfo and Captain Nemanor in Knightmare Series 6.
Fans of the US crime drama Dexter may also have spotted Adrian playing Zach Hamilton's attorney in episode 7 of the final series, which aired last month on the FOX channel.
Adrian's other TV appearances since Knightmare include guest roles in several popular series: Sabrina The Teenage Witch, Buffy The Vampire Slayer, CSI: New York, Beverley Hills 90210, Castle and 24.
26th September 2013: Knightmare Live Post-Edinburgh 2013
Knightmare Live, much like a quest in the Knightmare dungeon, has had three phases.
First, the successful previews in London.
Second, the shows at this year's Edinburgh Festival, where the reviewers left Knightmare Live with more stars than a giant head with a cartoon concussion.
Third, Knightmare Live is raising its Greater Game with a performance at London's Bloomsbury Theatre this Friday, the 27th of September. We have been promised 'new rooms, new characters, new rules', the advisors will be The Real MacGuffins, the dungeoneer will be lucky fan VixieBen (selected at random by Knightmare Live from those who'd booked tickets) and rumour has it that a big name or two may be turning up to see the spectacle.
If you have a ticket for this Friday's show, enjoy! If you haven't, sadly it has sold out, barring the odd last-minute offer of spares on Facebook or Twitter, or a stroke of amazingly good fortune via the theatre box office (020 3108 1000).
Otherwise, here are the shows it has coming up in October:
Brighton: Sunday 13th October 2013, 7:30pm, Old Market Theatre. Part of the Brighton Comedy Fesitval.
London: Thursday 17th October 2013, 7:30pm, Bloomsbury Theatre.
And so far for 2014:
Stourport: Thursday 27th February 2014, 7:30pm, Stourport Civic Theatre Hall.
So let Knightmare Live tickets be yours without delay, and see just how impressively Knightmare has been turned into a live stage show. For all the latest Knightmare Live news, keep your eyeshield pointed at the Knightmare Live website.
October
1st October 2013: Knightmare Actors in The Professionals
Seeing an actor from Knightmare in a completely different TV series can be a rare treat. For instance, the late John Woodnutt (Merlin, Mogdred) appeared as Mr. Merryweather in a 1985 episode of The Adventures of Sherlock Holmes that was repeated on 24th September on ITV3. And Rayner Bourton (Julius Scaramonger, Skarkill) turned up as a caretaker in the 1982 episode of The Professionals that was reshown on ITV4 on 18th September.
If you missed either of these, help may be at hand from ITV Player. See the episode of The Professionals (Discovered in a Graveyard), and the episode of The Adventures of Sherlock Holmes (The Redheaded League).
Thank you to Canadanne on the Knightmare.com Forum for this news.
November
30th November 2013: Art of Knightmare Book
David Rowe has started an IndieGoGo campaign to fund an Art of Knightmare Book.
David Rowe has started an IndieGoGo campaign to raise £3,500 to start an Art of Knightmare Book. The book will include scans and pictures of the original Knightmare rooms that David created for the first few series of Knightmare, together with original briefings and memories from his creation of the dungeons.
A number of exciting and unique perks are available for people who back the project.
December
6th December 2013: Joanne Heywood in The Snow Gorilla
Knightmare actress Joanne Heywood will be on stage this Christmas at the Rose Theatre in Kingston upon Thames.
Spectacular family show 'The Snow Gorilla' runs from Friday 29th November to Sunday 5th January, and also features Brian Blessed in a voice role. Joanne, who played fan favourite Stiletta in Series 8, stars as circus owner Fanny Marigny.
Joanne Heywood is interviewed about the show by the Surrey Comet.
Earlier this year, Joanne played all three female roles in 'Last Of The Red Hot Lovers' at the Esk Valley Theatre in Glaisdale, North Yorkshire. Some rehearsal clips can be seen in this promotional video.
10th December 2013: Challenge's First Ever Episodes
The first episode of Knightmare will form part of Challenge TV's First Ever Episodes season on the weekend after Christmas.
The repeat of Knightmare episode 1, first seen on Children's ITV on 7th September 1987, is set to include a specially recorded interview with Hugo Myatt. Hugo was first interviewed by Challenge in 2002 when Knightmare was included in its Christmas Cult Selection. He also provided continuity announcements for Challenge's repeats of Knightmare Series 1-2 earlier this year.
More recent reports suggest that an interview with Knightmare creator Tim Child will also feature. He also was interviewed for the 2002 Christmas Cult Selection. Challenge have released a photo of Hugo Myatt in costume as 1987 Treguard: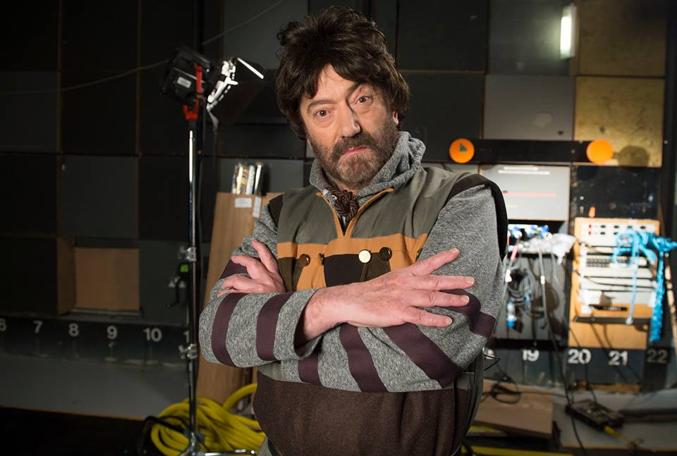 More information on the First Ever Episodes season, which will take place on 28th-29th December, is available on the Challenge website , including links to a full 1st Ever Eps promo and a Knightmare-specific promo that depicts (fictionalised?) events before the first episode.
Thank you to Knightmare.com Forum member pjmlfc05 for also providing a report of this news.