January
20th January 2019: John Woodnutt Memorial Bench
A fitting tribute to a great actor.
We were glad to learn recently that there's a bench in memory of John Woodnutt in London.
Watchers of Knightmare Series 1-4 know and love (and fear) John's performances as Merlin and Mogdred. His acting career from the 1940s to the 2000s included many other appearances, from Doctor Who and The Boy From Space to Jeeves and Wooster and The Bill.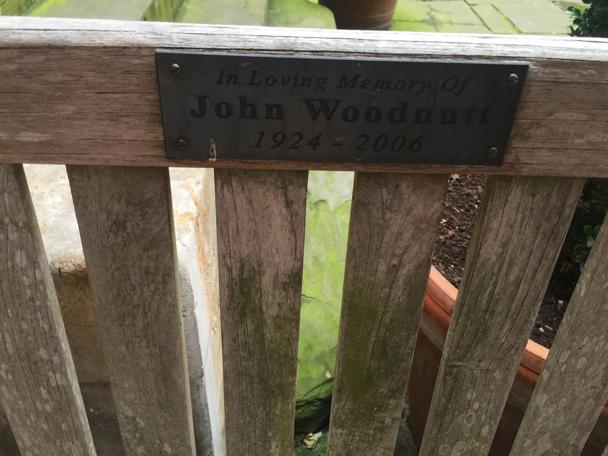 According to the entry on OpenBenches, the bench is near St. Paul's Church in Covent Garden, WC2E 8SD. Although its positioning facing a blank wall isn't ideal, it still offers an opportunity to sit and reflect on the magic and majesty brought to Knightmare by John when he sat on Merlin's own seat.
February
2nd February 2019: Knightmare Goes to Vegas
David Rowe's Knightmare artwork will be on display at a Las Vegas trade show this month.
That show is, to quote Treguard, "not inaptly named". Retro Trader announced details on its Facebook page:
MAGIC Las Vegas is one of the biggest fashion shows in the world, held in Las Vegas, Nevada, on February 5th "7th 2019.
If you are going, you should swing by and check out the H3 Retro Gaming Fashion Arcade and Lounge, run by one of our key partners, H3 Sports Gear. They are in booth 16254 in the 'Magic Men's' section, at the Mandalay Convention Center.
Retro Trader's brands include merchandise that features the artwork of David Rowe. That very much includes Knightmare, as you can see at the end of this promotional video which will be playing at the show. There is a zoom-in on a most unnerving face from the Knightmare book covers. You have been warned.
Knightmare never quite broke America. There was a US pilot episode based on Knightmare Series 6 (called Lords of the Game, shown at our convention in 2014), and reportedly repeats on a New York TV channel, not to mention the Knightmare website from Johnny Burkhart that preceded our own... but even so, helping the United States to embrace the Greater Game feels like unfinished business. Here's hoping that the presence of Knightmare in Nevada will cause new levels of interest and put David Rowe's masterpieces on merchandise and clothing across the realm.
Back on this side of Atlantis, you'll have an opportunity to meet David Rowe at PLAY Expo Manchester on 4th-5th May, where he'll be a guest alongside Hugo Myatt.
March
25th March 2019: Hugo Myatt at WatCon One
Hugo Myatt's first convention of 2019 will be in Watford on Saturday 30 March.
Other guests will include actors from Star Wars, Harry Potter, Willy Wonka and the Mighty Boosh (but not the one who does The Great British Bake Off).
WatCon One will be at Waford's Sun Postal Sports & Social Club. Tickets are available via the link on WatCon One's Faceboook page.
April
1st April 2019: Hugo Myatt at Sci-Fi Scarborough
Hot on the heels of Wat Con One, our favourite dungeon master has another convention this weekend.
Things have come a long way since the days of Scarborough's traditional fair. Sci-Fi Scarborough will feature guests from many universes (Red Dwarf, Doctor Who, Game of Thrones, Harry Potter), artists, traders (OK, Scarborough Fair did have those), gaming, music, photoshoots and more amazing costumes than you can shake a reach wand at.
It's all happening on Saturday 6th and Sunday 7th April in Scarborough's Spa Complex. You can find out more and book tickets on the Sci-Fi Scarborough website.
We love seeing photos of Hugo meeting fans at conventions. If you're one of the lucky ones, please do share a picture or two on social media.
18th April 2019: Knightmare Live in April
Your next chance to see Knightmare Live will be at Kings Place in London on Friday 26th April.
Other confirmed Knightmare Live shows:
4th & 5th May: PLAY Expo Manchester, with the added bonuses of a cameo from original Treguard Hugo Myatt and a Knightmare Q&A panel featuring Hugo, Paul Flannery of Knightmare Live and Knightmare artist David Rowe.
31st May & 1st June: UK Games Expo, Birmingham
20th July: Bluedot Festival, Jodrell Bank
If you're now at the "Shut up and pocket my gold" stage, we respectfully direct you to the Knightmare Live website for more information, ticket buying links and numerous decent photos.
And don't forget that you don't simply have to be a watcher. You could be treading the boards/path. As we said last year:
'In 1987 Knightmare seemed like just another TV series. But it wasn't. It was different in many ways and so were those who did the questing. In 1987 the average age of the dungeoneer was... 13? In '19 it will be... probably a lot older. But that's the point: if you're an adult with childhood dreams of taking on the hard castle, Knightmare Live is your opportunity. Send them an email via their website and put yourself in the running (or sidestepping).'
And yes, we'd love there to be an apostrophe in 'Kings Place' but that's a quest for another day.
27th April 2019: Edmund Dehn back in Death of a Hunter
One of Knightmare's original cast members is reprising his acclaimed role as Ernest Hemingway.
Death of a Hunter is being performed at Brighton's Warren Theatre from 3-12 May, as part of the Brighton Fringe. Originally written in German by Rolf Hochhuth, this one-man play follows the last hour of American author Ernest Hemingway's life.
27th April 2019: Knightmare at PLAY Expo Manchester
Hugo Myatt, David Rowe and Knightmare Live will be among the guests at PLAY Expo Manchester on Saturday 4th and Sunday 5th May.
Hugo is of course the face of Knightmare as Treguard; David is the artist of Knightmare, from dungeon rooms to book covers; and Knightmare Live remains pleasingly self-explanatory, with Paul Flannery at the helm (or do we mean helmet?).
In a recreation of PLAY Expo London 2018, Hugo, David and Paul will be joining (life) forces for a Knightmare Q&A hosted by The Retro Hour podcast team. (The timing of the Q&A is unconfirmed but we'd speculate that like last time, it will be on the Sunday afternoon.)
By happy coincidence, this is all happening a week before the fifth anniversary of our own Knightmare Convention, where many of us had the privilege of meeting Mr. Myatt and Mr. Rowe. We hope many more people will have that experience in Manchester in May.
May
5th May 2019: Last Commanders: Series 2
The CBBC game show set in space and inspired by Knightmare has returned for its second series.
The people of Kaladia are under threat from an overpowerful artificial intelligence called Sciron and an anti-emotion virus. A young programmer called Skye is leading the fight for freedom as other Kaladians try to survive on Sciron's base, the Ykarus Biotech station.
If that doesn't sound much like Knightmare, try CBBC's description:
'Teams of Commanders guide their Freedom Fighter avatars to dodge danger, crack cryptic codes and take on terrifying tasks to complete their mission.
Directly influenced by first-person videogames and YouTube play-through videos, Last Commanders is a genre-busting gaming experience. The players are in teams playing from their own homes but without controllers. They pick their character as they would in a videogame, but instead of being a collection of pixels, their character is a real person responding to their commands. The Commanders see what their avatar character sees and can talk and listen to the Freedom Fighter character they're playing with. Working together, they try to avoid Game Over and complete their mission.'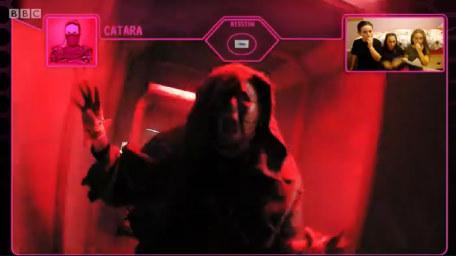 The influence of Knightmare on Last Commanders is clear through comments from the people who made it.
Cara Ellison, who wrote an excellent piece about Knightmare for Unwinnable and helped get Knightmare into Red Bull TV's Screenland series, had this to say in her January 2018 newsletter:
Objective Media contacted me to ask me if I could develop a TV show with them based on an idea they'd had - a cross between The Crystal Maze and Knightmare, with a videogame twist - it was all first person camera. I said YES. And: OH MY GOD, I HAVE DREAMED OF THE MOMENT I MAY REBOOT KNIGHTMARE. I HAVE EVEN WRITTEN AND TALKED ABOUT IT EXCESSIVELY ON THE INTERNET.
Interviewed for a Den of Geek article on Last Commanders, its producer Ryan Meloy said:
I loved Knightmare, obviously, so making a show like this is something I've dreamed of since I was about ten! Knightmare was such a departure from other kids' shows at the time. It felt like a video game brought to life and shared a lot of similarities, puzzle-wise, with the old text adventure games on the Spectrum ZX.
Each mission, set on a different part of the Ykarus station, advances the plot and takes Skye (Zoe Barker) a step closer to defeating Sciron, whose victims include her best friend and parents.
Knightmare had its own sci-fi sister show, The Satellite Game, now largely forgotten (though YouTube has some episodes). When Last Commanders started in 2018, we predicted it making a much bigger impression. Sure enough, it was nominated for a Broadcast Award and a BAFTA. It also got reactions on Twitter like these:
'One under-the-weather 8 year old and I are watching Last Commanders on CBBC and not only is she enjoying it but I am getting some delightful flashbacks to the early 90s watching Knightmare at tea-time with my brother and ma. This is really cute' @7ovdiamonds
'If you're like "why isn't there more Knightmare", totally recommend it. If you just like bloody great kids TV and wonder what System Shock would be like as a kids TV show - have at it.' @retromakes
Here's the Series 1 trailer from last year:
One big contrast to Knightmare is that each Last Commanders episode has three or four teams taking on the same mission, meticulously edited together. It makes us wonder whether some of Knightmare's less variable quests, such as Series 4, would work in this way.
The commanders, teams of two to four, are sent customised laptops by the production team and they use Skype to choose, talk with and advise their 'avatars' (who helpfully read and speak English). Although this means the kids are quite far removed from the danger - which mostly consists of "Cybers" patrolling the corridors and lurking outside each puzzle room as Sciron threatens a door override - they clearly feel the tension, with many a scream let out. Maybe it's because they're younger than Knightmare contestants, or because they're not constrained by a TV studio environment. Equally, they're thrilled when they complete a puzzle or mission, which is fun to watch.
If the freedom fighter gets caught, we get the Game Over screen: much like Knightmare, younger viewers are assured that the harm isn't real. In every episode so far, at least one character has completed the mission. There's obviously a balance to be struck between challenging gameplay and story development.
Series 2 began on Wednesday 1st May. So far it's featured more interactions between the avatar and 'NPCs' (i.e. conversations with other people on the station) than Series 1, making it even more akin to Knightmare. There's even a moment where the players get caught spying. The impending threats, from Cybers round the corner to sleeper mist filling the room, serve their purposes as tremendously as Knightmare's "hurry ups" did.
The schedules suggest there are are three chances to catch each Last Commanders episode on the CBBC channel: Wednesday at 5:30pm & 7:30pm, Saturday at 7:30pm. You'll find a set of playable prequel missions via the Last Commanders webpage which pleasingly evoke the Knightmare Teletext games. There's even a nod (maybe) in one of them to Knightmare's 'fire extinguisher in the eyeshield sequence' moment.

June
19th June 2019: Hugo Myatt at Leicester Horror Con
We're glad so many of you got to meet Hugo at Leicester Horror Con on 22nd June at Leicester's Guildhall.
It was an appropriately named venue: while Hugo Myatt may be most famous for playing a dungeonmaster, he also voiced the Guildmaster in the game Fable.
Leicester Horror Con is just one of the many conventions Hugo's been to since he was a guest at our own Knightmare Convention in Norwich in 2014.
Hugo's other recent conventions include:
Wat Con One, March 2019, Watford
Sci Fi Scarborough, April 2019
PLAY Expo Manchester, May 2019 - with Knightmare artist David Rowe and Knightmare Live
Hugo's forthcoming conventions include:
Em-Con Worcester, 14th September, Worcester Arena
Coastal Comic Con, 28th September, Royal Bath Hotel in Bournemouth
We hope more and more fans will enjoy these opportunities to meet Hugo in person. He's not so scary in real life. Except when he stares...
July
27th July 2019: Knightmare clip at BFI event
Today the BFI (British Film Institute) held an event called 90s Kids' Shows, featuring a clip of Knightmare.
Before the panel discussion was an extended compilation of clips of '90s shows (mainly children's shows but The Crystal Maze and GamesMaster were included). The Knightmare clip was Team 1 of Series 6 (dungeoneer Matt) passing the blocker on Level 1.
Unfortunately, on this clip alone the sound and vision were out of sync. It looked like Matt wasn't responding to the advisors' instructions; people in the audience were laughing.
Added to that, the clip was from a Challenge transmission with the Challenge logo blurred out across the life force meter. It isn't clear why the BFI couldn't have got hold of a logo-free clip.
30th July 2019: Contestant Becomes Exam Meme
A former Knightmare advisor's chilling TV appearance has been repurposed by frustrated teenagers during the GCSE exam season.
Katharine Bennett-Fox, a contestant in Series 4 (1990),recently appeared in a Barclays advert about digital bank fraud. She portrays a call centre worker who cheerfully cons a customer out of sensitive information before making an icy reveal to watchers.
During May, images and GIFs of the advert's chilling turn, 'did you see what I did there?', became a popular meme on social media for frustrated secondary school students reflecting on their GCSE exams.
Several teenagers on Twitter compared the sociopathic character from the advert to the exam board members responsible for setting the questions for their papers. Some were even taken aback by questions that they considered to be much easier than expected, which knocked them off-guard.
Shortly after its launch, the advert made headlines over claims that it was stopping people from sleeping. Funnily enough, it was a question about sleep that proved the beginning of the end for Katharine's Knightmare adventure.
Did you see what I did there?
September
15th September 2019: Hugo Myatt at Em-Con Worcester
Knightmare.com's Robin Barlow writes:
'On the 14th September myself and Matt Richings visited the Em-Con in Worcester to round off a holiday having spent the best of a week in Butlins prior.
For the uninitiated, most of these events tend to comprise many merchandise stalls and the opportunities for signatures and photos at further costs. The entrance fee was reasonable at only £10 so we moved boldly forward in a queue resplendent with costumed fans of varied allegiances.
As well as the main man we had intended to see we also got to see Peter Davison, the 5th Doctor Who, and several other figures from stage and screen over the years including David Yost (an original Power Ranger no less), Kenneth Cranham who has recently appeared in Scarborough as Mr Ferris and Dan Starkey - a regular Sontaran, Strax, in Peter Capaldi's who tenure [and a Knightmare Live guest]. The headliner, David Bradley, had to pull out.
It was great to see Hugo in a relaxed setting and seeing him enjoy a relaxing day reaping the rewards of a long and varied career. He was as charming as we'd remembered from the Knightmare Convention of 2014, making us instantly at ease and without a doubt was the highlight of our day. For anyone that lives nearby to a similar event if it takes place we would recommend it being worth your while.'